By: Luis Martínez-Fernández The following is the publicity/sales information from the publisher. I will try and review this volume in the near future.

Publisher: University Press of Florida, 15 NW 15th Street, Gainesville, FL 32611

Details: 408 pages 6×9 Cloth: $44.95

ISBN 13: 978-0-8130-4995-3 Pubdate: 10/14/2014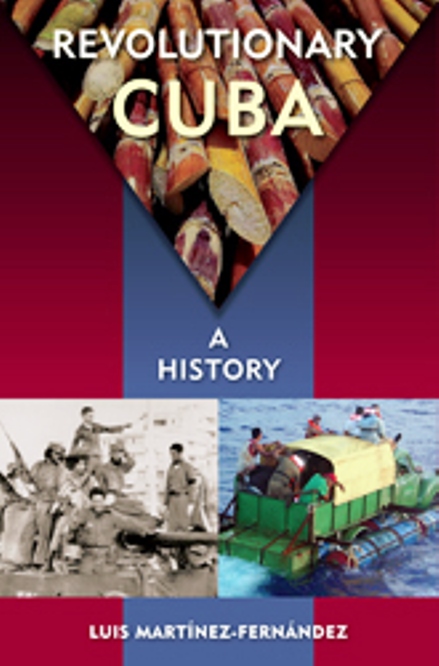 Hyperlinks to:
Excerpt: Chapter 2 Fatherland or Death: Setting the Revolution's Foundations:  
Comments on the book: "A remarkable achievement. The most comprehensive, synthetic, and systematic appraisal of the Cuban Revolution to date."–Jorge Duany, author of Blurred Borders "Passionate and balanced, Luis Martínez-Fernández guides the reader expertly through the seemingly endless twists, turns, and detours of the Cuban Revolution."–Gustavo Pérez Firmat, author of Life on the Hyphen
This is the first book in more than three decades to offer a complete and chronological history of revolutionary Cuba, including the years of rebellion that led to the revolution.
Beginning with Batista's coup in 1952, which catalyzed the rebels, and bringing the reader to the present-day transformations initiated by Raúl Castro, Luis Martínez-Fernández provides a balanced interpretive synthesis of the major topics of contemporary Cuban history. Expertly weaving the myriad historic, social, and political forces that shaped the island nation during this period, Martínez-Fernández examines the circumstances that allowed the revolution to consolidate in the early 1960s, the Soviet influence throughout the latter part of the Cold War, and the struggle to survive the catastrophic Special Period of the 1990s after the collapse of the U.S.S.R. He tackles the island's chronic dependence on sugar production that, starting with the plantations centuries ago, continues to shape Cuba's culture and society today.
He analyzes the revolutionary pendulum that continues to swing between idealism and pragmatism, focusing on its effects on the everyday lives of the Cuban people, and–bucking established trends in Cuban scholarship.
Martínez-Fernández systematically integrates the Cuban diaspora into the larger discourse of the revolution. Concise, well written, and accessible, this book is an indispensable survey of the history and themes of the socialist revolution that forever changed Cuba and the world.
Luis Martínez-Fernández, professor of history at the University of Central Florida, is coeditor of Encyclopedia of Cuba: People, History, Culture and the author of numerous books including Frontiers, Plantations, and Walled Cities: Essays on Society, Culture and Politics in the Hispanic Caribbean.