Andrew Duffy
Ottawa Citizen, Sep 10, 2020  •  Last Updated 12 hours ago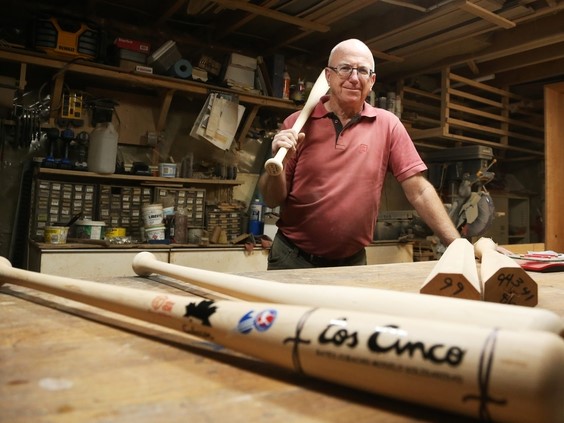 From his basement woodworking shop in the Ottawa Valley, former car salesman Bill Ryan, 66, is turning out finely-crafted maple bats for Cuba's beleaguered baseball leagues. Photo by Jean Levac /Postmedia
A retired Ottawa Valley car salesman is turning out hundreds of hand-made maple bats every year for Cuban baseball players as part of a decade-long effort to assist the impoverished island nation.
Bill Ryan, 66, spends 10 or 11 hours every day in his basement woodworking shop, making his now famous "Cubacan" bats.
This year, he wants to send 600 bats — they each cost about $50 — to Cuba, which is about to start its national baseball series. Professional quality bats are difficult to find and prohibitively expensive in Cuba, which remains the subject of a strict U.S. trade embargo.
"The only way I can do this is to do all of the steps myself," says Ryan, who lives on a rural side road south of Carleton Place, near Franktown.
He uses his own sawmill to cut the rectangular "blanks" from which he crafts a baseball bat. The blanks — rectangular blocks 36 inches long and three inches wide — are kiln-dried for three months to reduce their moisture content and weight.
Each bat requires about two hours of labour. Ryan uses a lathe to shape the bat, then sands it three different ways before applying two coats of paint, decals and two coats of varnish.
A careful record keeper, Ryan has made 2,967 bats since he launched his "hobby" a decade ago. Almost all of his bats are now in Cuba.
"When I made the first bat, there was no intention of making the second or the third: It just sort of built," he says.
Like most Canadians, Ryan's first exposure to Cuba came as a sun-seeking tourist.  A deeper involvement in the country started innocently enough when he decided to fashion a few bats as gifts for Cuban friends. A lifelong woodworker, Ryan made trophy bats that were more a decoration than a piece of baseball equipment.
In baseball-mad Cuba, however, the bats attracted attention and he was asked to make more, including bats that could be used in games. The maple bats quickly grew in popularity among Cuban players.
He was also asked to make bats as gifts for each of the Cuban Five — five intelligence officers who were arrested by U.S. authorities in September 1988. "Los Cincos" spent more than a decade in U.S. prisons after being convicted of spying. Cuba maintained they were in South Florida to monitor extremist exiles involved in a wave of terrorist bombings in Havana.
All of the men were released by 2014 and welcomed home as heroes in Cuba. Ryan met and befriended one of them, Gerardo Hernandez, and together they launched a grassroots organization, Cubacan, dedicated to improving the lives of ordinary Cubans.
Cubacan has shipped equipment and materials to improve bat making in Cuba. Last year, the organization delivered more than two tonnes of sports equipment to the island.
This year, Ryan wants to send 600 hand-crafted bats to the 16 teams competing in Cuba's national baseball series, a key stepping stone to the Olympic Games for the country's best players. The series starts next week.
Cuba is struggling to equip its baseball teams because of economic sanctions and new restrictions imposed by U.S. President Donald Trump. During the past four years, Trump has reversed the thaw in U.S.-Cuba relations orchestrated by his predecessor, Barack Obama, and tightened the sanctions that have stifled the Cuban economy for 60 years.
Ryan says U.S. efforts to damage Cuba even reached into the Ottawa Valley. Earlier this year, he says, under pressure from the U.S. Treasury Department, GoFundMe closed his fundraising account which had been created to send sports equipment to Cuba from Canada.  The Canadian Network on Cuba (CNC) is now leading the fundraising effort to raise $30,000 to send the Cubacan bats to Cuba.
Ryan still travels to Cuba once a year with his wife, Nora. It's "incredibly satisfying," he says, to watch a baseball player hit a home run with one of his bats, but seeing one break still makes him shudder.
Two years ago, Ryan received the Cuban government's Friendship Medal, which has gone to people such as singer Harry Belafonte and actor Danny Glover.
"More than one million Canadians go to Cuba every year," he says, "so we're trying to suggest to some of those people to send a bat, offer a donation, give something back."