Vegard Bye;  The full Report is available here:  NUPI Report: Which Way Cuba? This NUPI Report is the result of a project financed by the Norwegian Ministry of Foreign Affairs, with the purpose of studying and accompanying economic and institutional reform in Cuba. This Report consists of three papers taking stock of the political changes in Cuba by the end of 2013 (with some updates from early 2014). First, Vegard Bye attempts to summarize the status of the Cuban reform processes under president Raul Castro, with emphasis on the link between economic reforms and political transformations. One basic question is whether increasing economic pluralism may also lead to political pluralism, or whether there will rather be a re-concentration of both economic and political power. Second, Armando Chaguaceda looks at the social deterioration in Cuba. What is at stake are some of the most important achievements of the revolution in terms of health, education and social security. The author argues that these achievements have never been seen in a rights perspective. Lastly, Borghild Tønnessen-Krokan describes the polarized debate and issues that have blocked normalization and friendly coexistence, and analyzes constraints and benefits related to dialogue on human rights, security and other contentious issues both inside Cuba and between Cuba and the US in light of a recent thaw. In Annex 1 at the end of the Report, we reprint an English translation of the very visionary Manifest elaborated by our partner Laboratorio Casa Cuba: CUBA SOÑADA; CUBA POSSIBLE; CUBA FUTURA. This is the first proposal for a liberal democracy in Cuba proposed by a group of political thinkers operating within the Cuban political system, and thus tolerated by Government and Party. There is reason to believe that this document – with possible follow-up will become a benchmark for future debate about democratic political transformations in Cuba.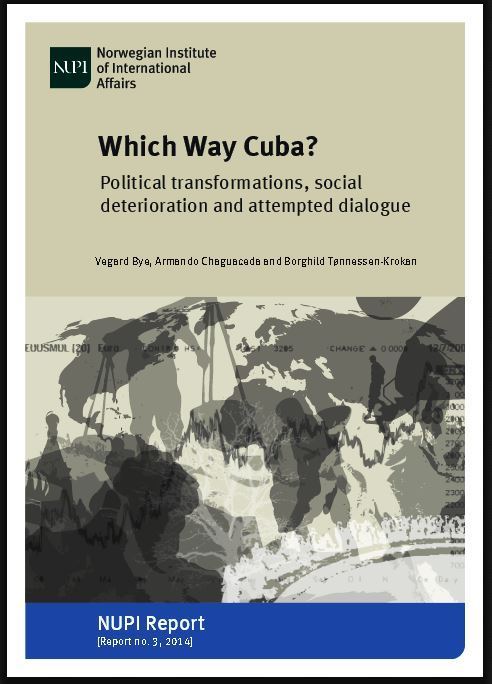 CONTENTS Foreword Which Way Cuba? The 2013 Status of Political Transformations By Vegard Bye
1. Introduction
2. Agricultural transformations and their implications
3. Widening space for employment-generating entrepreneurs?
4. Mariel: the new Cuban panacea?
5. The new cooperative sector
6. A dual state-private structure?
7. Social deteriorations and their possible impact
8. Cuban agents of change
9. International context Cuba towards Latin American normalcy?
10. Assessing the on-going transformations up against theoretical and empirical literature
11. The three scenarios
 Cuba: revisitando la Justicia Social en tiempos de reforma By Armando Chaguaceda
Resumen
Introducción
Las perspectivas del análisis.
El caso cubano
Las reformas y sus impactos
La (in)seguridad alimentaria y los ingresos personales
El déficit habitacional y la marginalidad.
" é " y " á "
Reducciones en la calidad educacional
Conclusiones
Build Walls or Open Doors? Prospects for Cuba Dialogue By Borghild Tønnessen-Krokan
Introduction
Methodological constraints
Scope and definitions of dialogue and reconciliation
Origins and dynamics of the conflict
From Deadlock to Détente
Conclusion
ANNEX I: