From the Globe and Mail, October 16, 2012.
Read the complete article here: Cuban Missile Crisis: 50 years ago, the world held its breath for two weeks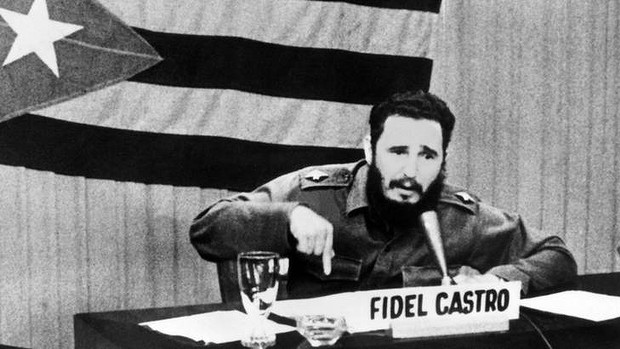 Fidel Castro: The most dangerous man in the world
Fidel Castro, the fiery, headstrong Communist revolutionary who had ousted the Americans from Cuba and was transforming the Caribbean island into his personal vision of a modern socialist paradise, was – for a few weeks in October, 1962 – the most dangerous man in the world.
"Kennedy thought he had Castro and the Cubans under control, but he didn't. And Khrushchev thought he had Castro, under control, but, as he would learn to his horror, he didn't. Cuba was the intervening variable, the 'X-factor,' the outlier, the loose cannon that nearly exploded in the faces of the superpowers in October 1962."
That except from The Armageddon Letters, a dramatic account of the interplay between three powerful leaders, all of whom failed to understand each other, provides a sometimes chilling, new look at the Cuban Missile Crisis
At one point, Mr. Castro, convinced that the confrontation will inevitably end in a massive nuclear confrontation, pressed his Soviet patron to act, actually pushing for a nuclear first-strike.
Written by James Blight and janet Lang, both at the Balsillie School of International Affairs at the University of Waterloo, the account is based on the exchanges of letters and cables among the three leaders, and presents the psychological imperatives that drove them in the midst of the crisis.
The book is part of an ambitious, multimedia effort to reassess the crisis.
"Given his belief in the inevitability of a U.S. invasion, Castro's focus on Armageddon is not a nightmare, but a kind of dream. After centuries of irrelevance, Cuba. will matter fundamentally to the fate of the human race," the authors write.
That sort of megalomania seems more dangerous than the nuclear weapons. Mr. Castro emerges as a nightmare, for both the U.S. and Soviet leaders.
For Mr. Kennedy, dogged by the failure of the Bay of Pigs invasion the previous year, looking weak in the face of Communist expansion represents the gravest danger to his presidency. As for the Soviet premier, The Armageddon Letters reveals his darkest moments come when he realizes his Cuban client is out of control.
Mr. Blight and Ms. Lang write: "This is not a normal situation, with both superpowers poised on the brink of nuclear war. [Khrushchev] becomes convinced at that moment that the situation in Cuba is slipping out of control – out of his control and out of Kennedy's control. If today a Soviet general violated standing orders and shot down an unarmed U.S. spy plane, then perhaps tomorrow the same general, or another general, might violate standing orders and launch a strategic missile at the United States, thus initiating Armageddon."