By Zachary Leshin | October 28, 2015
 (CNSNews.com) — U.S. Rep. Paul Gosar (R-AZ) has introduced legislation to repeal "outdated policies" he says "provide amnesty to Cuban aliens" – including the Clinton-era "wet foot, dry foot" policy.
The Ending Special National Origin-Based Immigration Programs for Cubans Act of 2015 would repeal the Cuban Adjustment Act of 1966, which originally allowed any Cubans who had been living in the U.S. for two years to become legal permanent residents.
In 1976, the Act was amended to reduce the residency requirement to one year.
On Aug. 19, 1994, President Clinton announced his "wet foot, dry foot" policy: Any Cubans who landed on U.S. soil ("dry foot") could remain in the U.S. even if they did not enter the country through the standard legal immigration channels.  However, migrants who were intercepted by the U.S. Coast Guard at sea ("wet foot") would be returned to Cuba.  More than 2,600 Cubans were returned to the island between October 2014 and June 2015, the Associated Press reported.
"I introduced a bill to terminate three outdated policies that provide amnesty to Cuban aliens and are costing taxpayers billions of dollars," Gosar said last week in a press release.  "The most disturbing part of this flawed immigration policy is that Cuba does not allow Cuban citizens convicted of crimes in the U.S. to be repatriated to Cuba."
 "The Obama Administration continues to rule by executive fiat without any regard for our nation's immigration laws or our country's system of checks and balances that was established by the Constitution," he continued.  "If President Obama has normalized relations with Cuba, why would we treat illegal immigrants from that nation any different than those from other countries?" Gosar asked.   "Cuban nationals should be treated under the same immigration rules as any other person seeking to immigrate to the United States and should not receive preferential treatment."
Gosar's bill has been endorsed by the Federation for American Immigration Reform (FAIR). In a statement, FAIR president Dan Stein called the law "an outdated relic of the Cold War. Continuing this policy serves no national interest and is perpetuated purely for domestic political purposes."
"A recent investigative report by the Ft. Lauderdale Sun-Sentinel provides conclusive evidence that the Cuban Adjustment Act is being widely abused, at great expense to American taxpayers. It is time to end this special immigration policy and treat Cuban nationals the same way we treat citizens of every other country," Stein continued.
But U.S. Secretary of State John Kerry is opposed to the repeal of the Cuban Adjustment Act. During an August press conference in Havana, where he attended a ceremony marking the reopening of the U.S. embassy, Kerry said: "We support full implementation of the existing migration accords with Cuba, and we currently have no plans whatsoever to alter the current migration policy, including the Cuban Adjustment Act, and we have no plans to change the 'wet foot, dry foot' policy at the same time."
En Route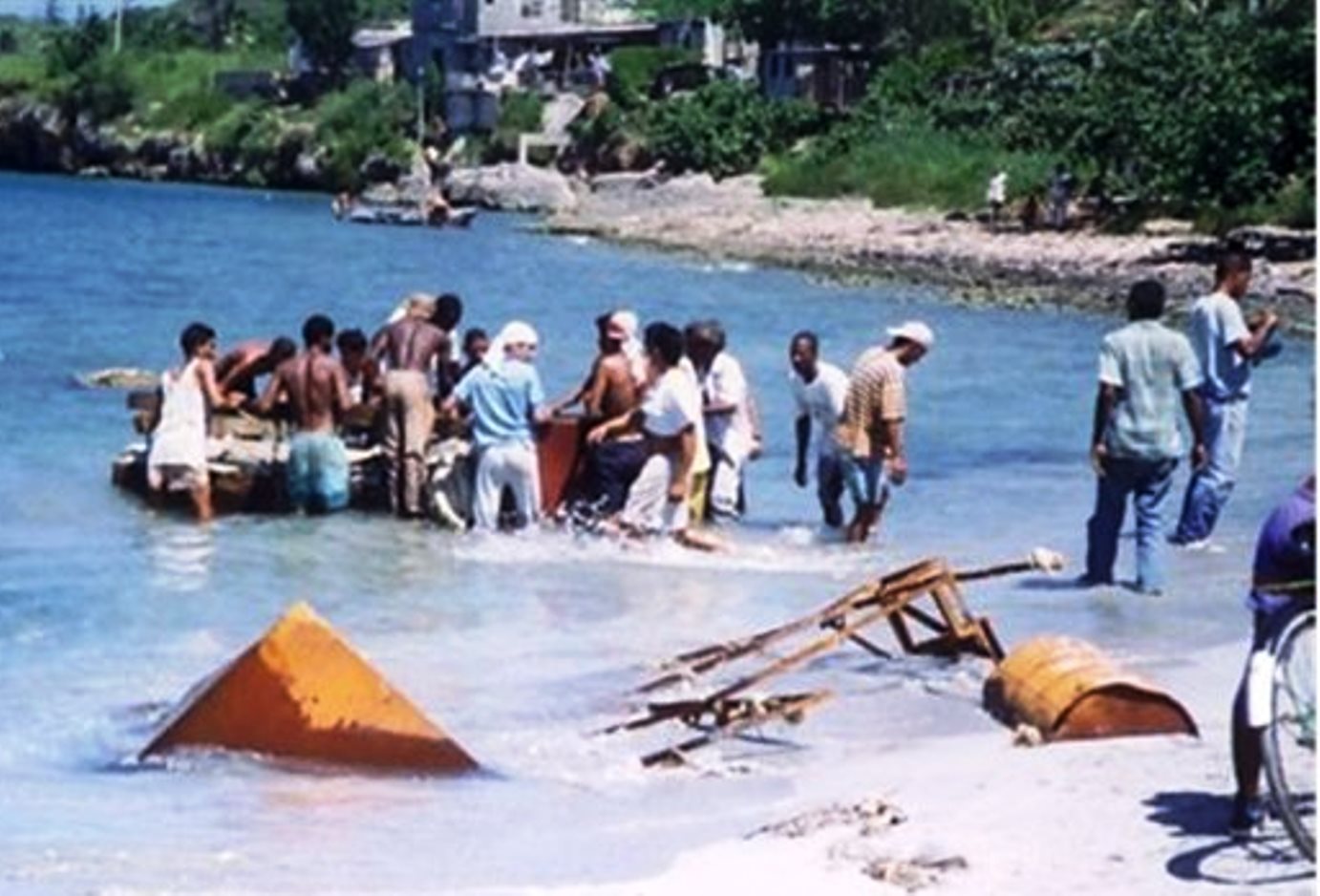 Preparing for Departure, Playas del Este, Havana, August 1994