NEWSWEEK,  David Brennan April 16, 2020
This week marked five years since President Barack Obama requested that Congress revoke Cuba's designation as a "State Sponsor of Terrorism," a key step in re-establishing diplomatic relations with the Caribbean nation after decades of antagonism between the Cold War foes.
Obama went on to become the first U.S. president to visit the island since 1928, lift some travel restrictions and reopen the U.S. embassy in Havana, closed since 1961. The then-president hailed the thaw and described his visit as an "extraordinary honor."
The move faced opposition from both sides of the U.S. political spectrum. Anti-normalization figures pointed to the historic human rights abuses on the part of the island's revolutionary and totalitarian regime, plus its seizure of private property—including that owned by Americans.
When President Donald Trump came into office, he announced he was "canceling" the deals struck between the Obama administration and Cuba. Though some of the agreements remain in place, Trump oversaw new financial sanctions on regime figures and fresh travel restrictions.
But with the November presidential election looming, another shift in U.S.-Cuba relations could be on the cards. Presumptive Democratic nominee and former Vice President Joe Biden was part of the administration that upended the long campaign against Cuba, though in recent months has attacked former rival Sen. Bernie Sanders for praising the regime's achievements.
Biden was critical of the Cuban regime before the Obama-led detente, supporting existing trade embargoes on the island. But the former vice president dropped his opposition in support of the president, and has since criticized the "outdated" antagonistic ideology towards Cuba and trade and travel restrictions, which he described as forming an "ineffective stumbling block" to relations with other nations in the Americas.
Biden was fiercely critical of Trump's decision to undo Obama policy, describing the new president's wider Latin America approach as a "Cold War-era retread and, at worst, at worst, an ineffective mess."
Biden argued that Trump's restrictions would throttle Cuban entrepreneurs—undermining their independence from the communist regime—and limit the ability of Cubans in the U.S. to support their families at home.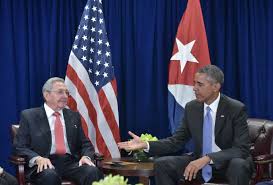 Asked to comment on Biden's Cuba stance, a campaign spokesperson pointed Newsweek to an interview with the former vice president published in Americas Quarterly in March.
"As president, I will promptly reverse the failed Trump policies that have inflicted harm on the Cuban people and done nothing to advance democracy and human rights," Biden said, lauding Americans "and especially Cuban-Americans" as the "best ambassadors for freedom" on the island.
Jeffrey DeLaurentis served as Obama's top diplomat in Cuba, and was nominated as ambassador to the island though was never approved by the Republican-controlled Senate. He told Newsweek he believes that any new president would have the backing of "the majority of the American public," which supports a better relationship with Cuba "despite the differences we may have."
"The current administration's decision to roll back the opening just repeats a failed policy from the past," DeLaurentis believes. "You can't continue doing the same thing and hope for a different result."
DeLaurentis argued that better cooperation between the U.S. and Cuba on issues including migration, counter-narcotics and climate change could improve American national security. Any such policies should "help, not hurt, the Cuban people," he added.
Prominent lawmakers—particularly in Florida where some represent much of the Cuban diaspora that fled Fidel Castro's revolution—have long believed the price of negotiating is too high. Florida Sen. Marco Rubio—the son of Cuban migrants—is one of the most prominent among Republicans, and according to Politico has more or less masterminded Trump's Cuba strategy.
After Sanders recently praised some elements of the regime in Cuba and suggested its achievements had the support of many Cubans, Rubio shot back noting that the Castro brothers retained power because dissidents had been "jailed, murdered or exiled." During his unsuccessful run for president, Rubio suggested Obama's Cuba policies were "in violation of the law."
The Cuban diaspora represents an important electoral question for Biden and Trump. A hard line on the regime in Havana could swing some Cuban descendants behind the Republican party in Florida—a vital swing state.
"The Trump administration already has the 2020 elections in mind," DeLaurentis suggested. "And so clearly the policies are designed to secure maximum popularity with a certain constituency in a key state." Indeed, Trump made a point of attacking his predecessor's Cuba strategy in his most recent State of the Union address, claiming to be "standing up for freedom in our hemisphere."
Cuban-Americans are not a voting monolith, but the scars of the revolution run deep. When Sanders praised the regime, Florida Democrats rushed to condemn his remarks and demand an apology. "Donald Trump wins Florida if Bernie is our nominee," warned Rep. Javier Fernandez.
The Trump administration maintains that Cuba is a malign power that needs to be contained, not negotiated with. A spokesperson for the president's re-election campaign told Newsweek that Trump "has held Cuba's corrupt communist government accountable for its actions, reversing the failed policies of the Obama-Biden administration."
The spokesperson claimed, "If it were up to Joe Biden, America would revert back to sympathizing with communists and implementing foreign policy that compromises our national security and weakens our standing in [the] world."
Elsewhere, the Cuban regime is deeply involved in Venezuela, propping up beleaguered President Nicolas Maduro who has been indicted in the U.S. Secretary of State Mike Pompeo has identified Cuba as a central facilitator of Maduro's regime.
A senior Pentagon official told Newsweek earlier this month that U.S. intelligence "has evidence that Maduro is trafficking drugs using naval vessels between Venezuela and Cuba," an allegation denied by the Cuban government.
The Biden campaign spokesperson who spoke to Newsweek declined to comment on questions regarding Cuba's influence in Venezuela and the allegations of drug smuggling.
DeLaurentis said that Cuba's role in Venezuela would "certainly be one of the big challenges" for any president who wished to revive relations with Havana. "In this situation, you can't negotiate with just the people you want to negotiate with, you have to negotiate with the people who are involved," he said.
But after three years of Trump, there is no guarantee that Cuba would be willing to come back to the table. "You would have to make an effort to win back their trust," DeLaurentis said. "Although a number of Cuban officials have indicated that they'd certainly be willing to return to the negotiating table."
The Cuban foreign ministry did not reply to Newsweek's request for comment.