By Arch Ritter
In the recently published Yale University 2012 Environmental Performance Index, Cuba's ranking is surprisingly strong. Its position in the world is # 50 which looks pretty reasonable in comparative international perspective, though the Yale study classifies Cuba as a "Modest Performer". (The ranking for Canada is #37 and that for the United States is # 49.) In the Latin American context, Cuba is tied for 8th place with Argentina. Other Latin countries rank higher: Costa Rica at #5; Colombia #24; Brazil #30; Ecuador #31; Nicaragua #35; Panama #39; and Uruguay, # 46.
On a second related index, namely the Trend EPI, or the trend rank based on performance over the last decade, Cuba ranks #101 in the world and #12 in the Latin American and Caribbean region.
The Yale Index now seems to be "the gold standard" in such environmental performance indices. Comprehensive information on the Yale index is available on their web site: Yale University 2012 "Environmental Performance Index Rankings". The detail of the final results and background studies for the 2012 Report are all available here:  File Downloads.
A pictorial summary of the methodology and indices used to construct the composite index are presented in Chart I below, and Cuba's performance in the various component indices is pictured in Chart 2.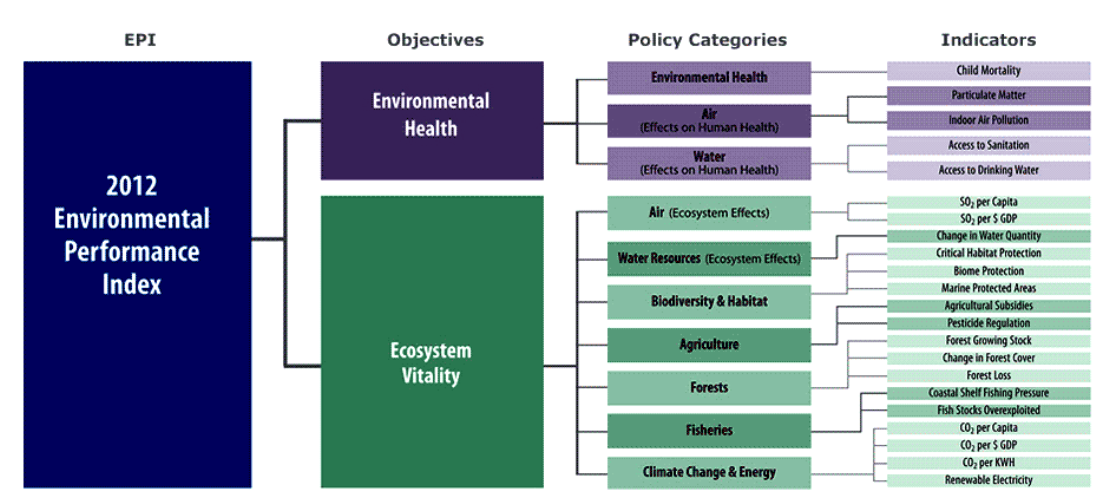 Chart 1
Chart 2:
According to the Yale study, and illustrated in Chart 2, Cuba performed well in the following areas:
Environmental impacts on health and the environmental burden of disease;
Forest cover and planting (reflecting the conversion of sugar lands to plantation);
Protected Areas;
Agricultural subsidies.
Cuba's performance was considered weaker in
Air quality;
The ecosystem effects of water resources;
Fisheries;
Cuba was judged to be more or less "OK" on water resources for human consumption and CO2 emissions.
A second study produced as Appendix 5 of the Republic of Cuba – European Union Country Cuba's Strategy paper and national indicative programme, 2011-2013, Appendix 5  provides  additional information on Cuba's environmental performance that is more worrying. Among the environmental performance measures and commentaries that it includes are the following:
"Of the flora in Cuba about 48% is in danger, of which around 22% in serious risk. Of the fauna these figures are 30% in danger of which 14% in critical risk."
There is an almost complete lack of infrastructure to manage water pollution. "Of the 2,160 main contaminant sources recognized by UNEP, 1,273 or 59 percent, release their pollution into the Cuban environment without any treatment whatsoever. Another 433, or roughly 20 percent, receive limited but inadequate treatment before being discharged."
"Some 17 or 18 percent of urban sewage receives treatment before discharge into Cuban waterways."
According to UNEP, approximately "341,716 tons per year of organic material are discharged into Cuban waters, equivalent to the pollution generated by a population of over 22.3 million people (almost twice the actual population)."
 "….it has been estimated that annually 863.4 billion gallons of contaminated water finds its way into Cuba's rivers, much of it industrial."
"Salt-affected soil covers 14 percent of the national territory, or approximately 1 million hectares. The cost of recovering these salt-affected soils has been estimated at $1.43 billion. This is one of the main contributors to soil erosion which according to the Cuban government, affects 60 percent of Cuba's territory, which has given rise to serious concerns about desertification, or extreme topsoil loss."
"Waste is collected efficiently in most parts of the country but dumped in uncontrolled dumpsite for the mayor part. The existing landfills for Havana are full and new two landfills will be constructed, making use of state-of the art technology (ground water protection, leakage and leaching control)."
In addition, as visitors to Havana can attest, air pollution is a serious concern though it seems to have improved somewhat since some of the older Soviet era trucks, buses and the "Camellos" have been taken off the streets. The smoke from the old electricity generation plant and the refineries in Havana also has a major effect when the wind is in the wrong direction. The waste waters of Havana are sent by sewage pipe – clearly visible from the eastern part of the Malecon – one kilometer off-shore where they are swept into the Florida Straits – thankfully missing the beach areas or east Havana, Varadero, Cayo Coco, Guardalavaca etc.
All in all, like virtually all other countries, Cuba has no grounds for environmental complacency.
Smoke from Havana's Thermal Elecctricity Plant, from the Edificio Fochsa,  Photo by Arch Ritter