AS ITS GREATEST OLD BUILDINGS WERE FALLING DOWN, A FEARLESS HISTORIAN NAMED EUSEBIO LEAL REMADE THE CITY INTO A STUNNING WORLD DESTINATION and WORLD HERITAGE SITE.
Smithsonian, May 2018.
Read more: EUSEBIO LEAL
On a sweltering morning in Old Havana, a courtly figure in a crisp gray guayabera shirt weaves through the Plaza de Armas, the city's Spanish colonial heart, trying not to attract attention. Although none of the foreigners lolling beneath the banyan trees and royal palms recognize him, a ripple of excitement passes through the Cubans, who nudge each other, smile and stare. Perhaps only on this island obsessed with its operatic past could a historian become a celebrity on a par with a Clooney or DiCaprio. Eusebio Leal is the official historian of the city of Havana, a regal-sounding position that brings with it enormous influence and exposure—he starred for many years in his own TV show where he explored Old Havana's streets—and he is as far from the cliché of the dusty, isolated academic as it is possible to get. In fact, Leal is credited with almost single-handedly bringing Old Havana from the brink of ruin to its current status as the most ravishing and vibrant architectural enclave in the Western Hemisphere.
Deftly dodging well-wishers, Leal ducks into the Historical Library, where some 50 female workers line up to kiss him on the cheek and offer flustered greetings. In his hectic round of duties, he has come to honor one of Cuba's countless obscure intellectual champions—a certain Alfredo Zayas Méndez, who founded this archive 80 years ago, an exalted act in a nation with the highest level of education in Latin America. Standing before a plaque, Leal orates off the cuff for 45 minutes about the biblio-hero Zayas, a rhetorical tour de force that includes fond personal anecdotes, philosophical musings on "the importance of memory" and flirtatious exchanges that make the audience collapse into helpless laughter. He then takes questions, poses for snapshots, examines a restoration plan for the Havana Capitol—offering his expert opinion about work on the dome—before dashing off with his minder to a high-level government meeting.
The whirlwind visit leaves everyone a little dazed. At age 75, Leal shows no signs of slowing his notoriously hectic pace. For the last 50 years, almost as long as the Cuban revolution has lasted, his outsized personality has been inseparable from Old Havana itself. Working within the Communist system, he pioneered a capitalist network that would save the district's architectural heritage at the same time as maintaining its community life so that it would not become a "living museum" like Venice or Old San Juan. A consummate politician, he combined a deft personal touch with the poorest residents while navigating the high corridors of government and hobnobbing with Fidel Castro. Although he has stepped back from direct power in the last couple of years following a serious illness, he is still regularly loaded with international honors, as both Cubans and foreigners—even Miami exiles—fall over themselves to pile him with praise.
"Eusebio Leal is a legendary figure in the preservation world," says Joshua David, president of the World Monuments Fund in New York, who visited Havana for a workshop on architectural restoration in February 2017. "He pioneered innovative ways to fund restoration in Old Havana, which at the same time supported social programs like health clinics and old age homes." "He's an incredibly complex, brilliant man," declares Gregory Biniowsky, a left-wing Canadian lawyer who has worked in Havana since 1995 and has dealt with Leal and his Office of the Historian (OHC) regularly. "He's the best of the revolution." Leal's own workers are intensely loyal. "He inspires everyone," says Mariela Mulet, the chief of the Prado Investment Group working on the Capitol. "He saved Old Havana though his own willpower. There won't be another one like him in a long time." On the street, the support is even more effusive: "Leal is the only person who Cubans would erect a monument to while he is still alive," declares Alian Alera, a young librero, or bookseller. "When I was a boy, I was there when he personally came and presented my father with his book-selling license." "Without Leal, Havana would be nothing like what it is today," sums up the American historian Nancy Stout, who worked with his office on several books. "A lot of Cubans would do anything for him."
The original article: : https://www.smithsonianmag.com/travel/man-who-saved-havana-180968735/#2rcuoRIt648z7XX9.99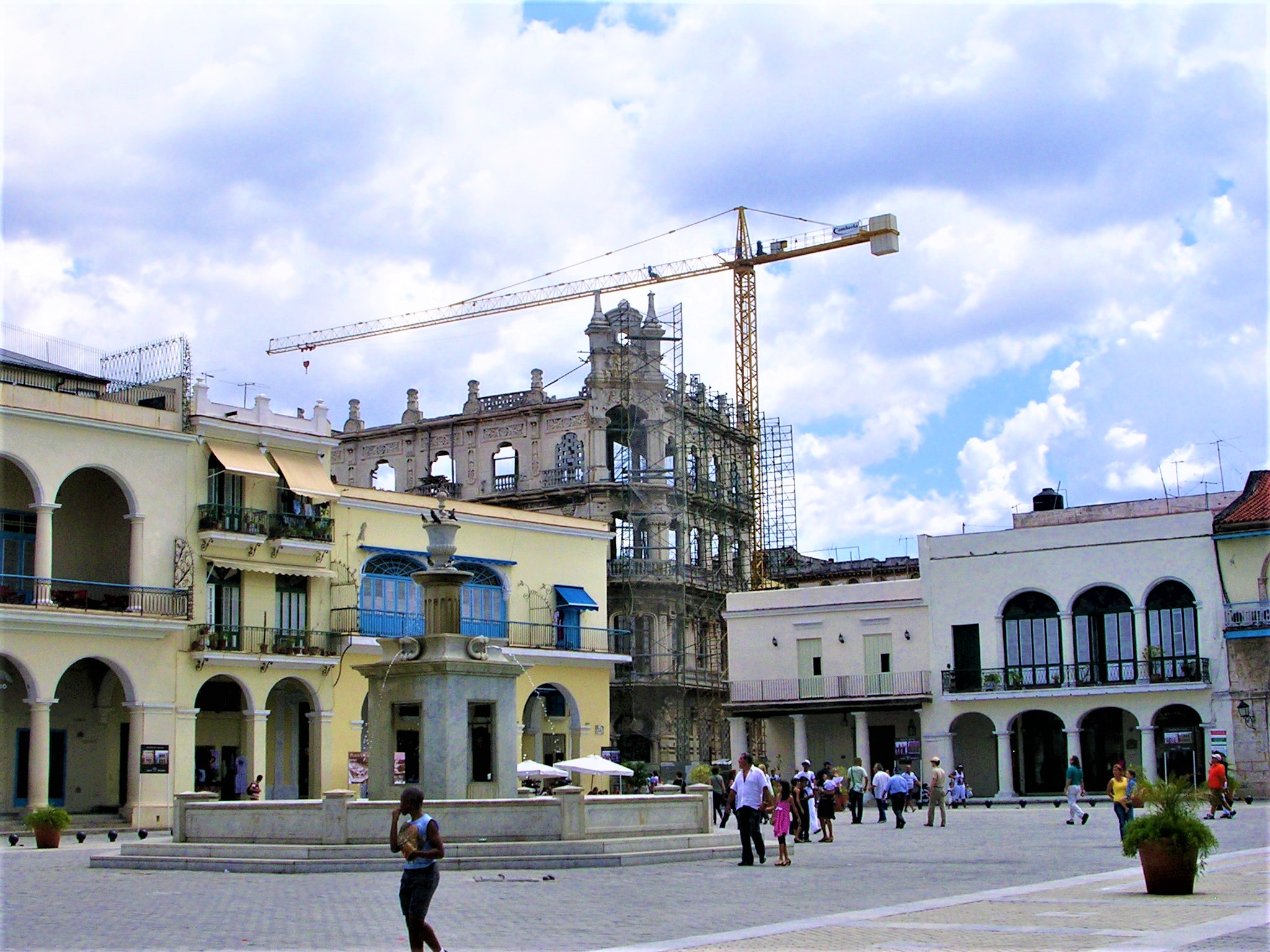 Plaza Vieja,  under revival, 2011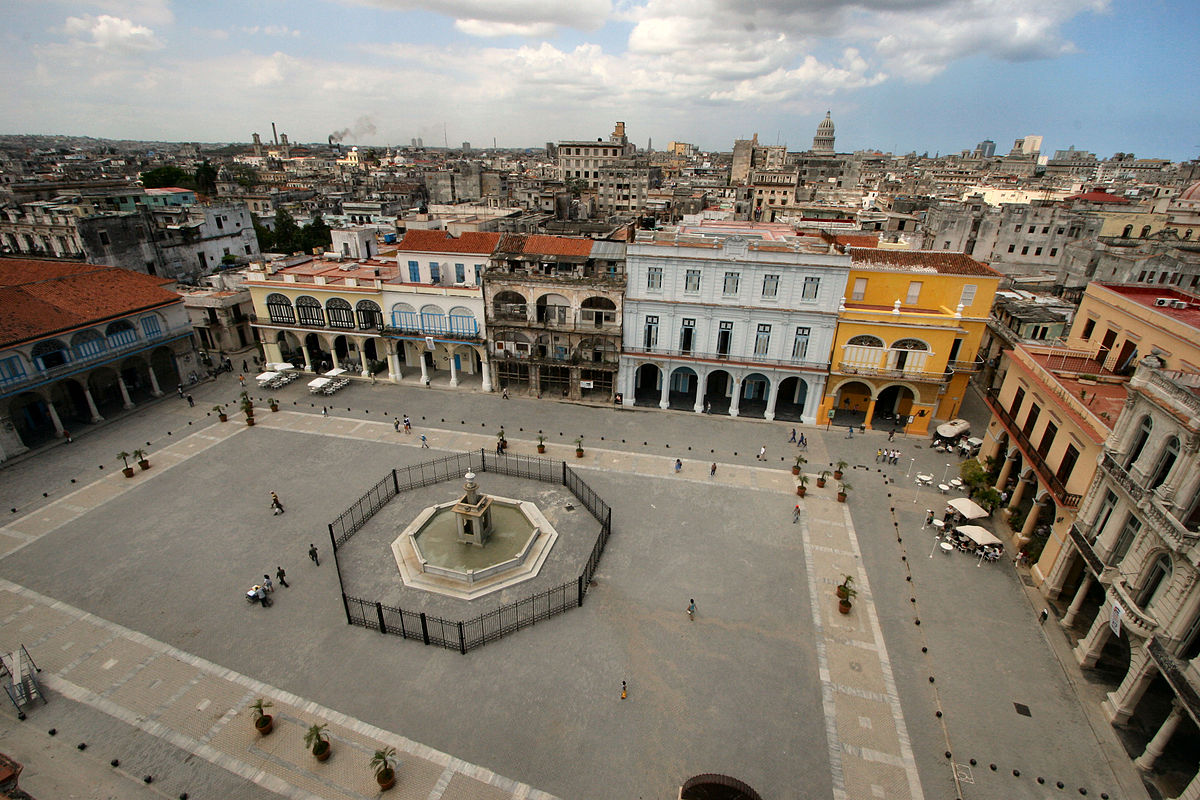 Plaza Vieja 2018