By Carlos Eire
Carlos Eire is the T. L. Riggs Professor of Catholic Studies at Yale University.
Original article here: When Francis Came to Cuba, 
From "First Things" ("America's most influential journal of religion and  public life"), October 25, 2015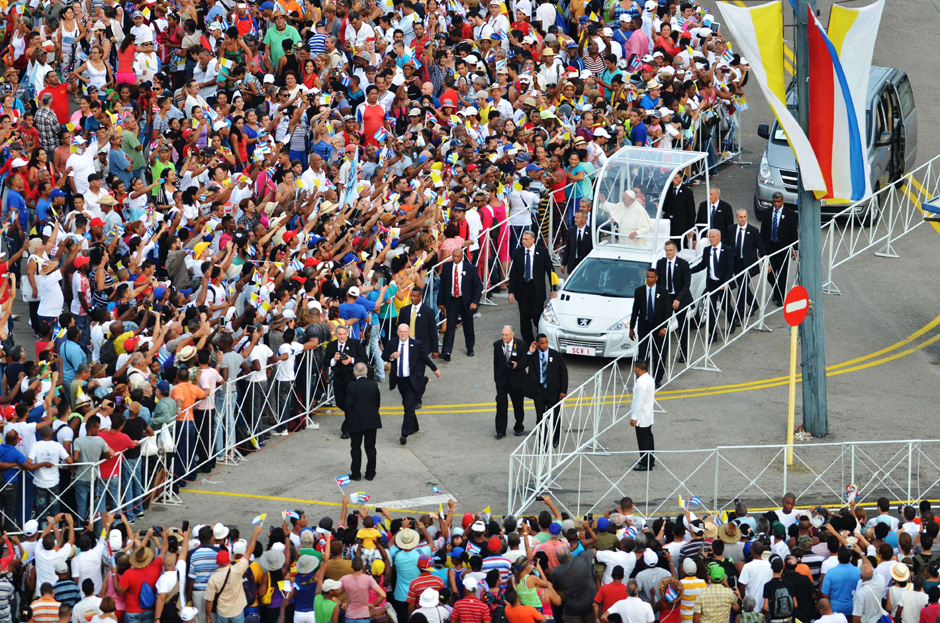 We should cheer any time a pope mingles with sinners. It's what Jesus did, and what his vicar on earth is supposed to do, too. Sin and evil need to be confronted, not ignored, and those who are unjust should be urged to repent and mend their ways. Unfortunately, there is little to cheer about when it comes to the mingling Pope Francis did with the Castro brothers in Cuba, and with other heads of state in Latin America who praise and emulate their dictatorship. Pope Francis seems much too comfortable with Latin American dictators and with their symbols of repression.
A few months ago, when he visited Ecuador and Bolivia, Pope Francis mingled with presidents Rafael Correa and Evo Morales, avowed disciples of Fidel and Raul Castro with tyrannical tendencies, but he refrained from speaking about their human rights abuses. He also received a blasphemous hammer-and-sickle crucifix from Evo Morales and accepted this gift with a smile. What if that crucifix had been in the shape of a swastika rather than a hammer and sickle?
That incident was a portent of things to come in Cuba, where Pope Francis has smiled his way through meetings with blood-soaked tyrants and failed to speak out about human rights abuses on the island, or to challenge the cruelty of his hosts. Pope Francis also failed to meet with any of Cuba's non-violent dissidents, despite their urgent pleas for an encounter. This is not so much the "preferential option for the poor" as the preferential option for oppressors.
Havana's Cardinal Jaime Ortega y Alamino explained this approach by saying that the Catholic Church in Cuba had to avoid "partisan politics." This is the same prince of the Church who has called for the arrest of asylum-seeking dissidents in his churches, and in April of 2012, at Harvard University, ridiculed these persecuted Cubans as "former delinquents" and "people with psychological disturbances" who lacked "any cultural level." Despite his frequent calls for "reconciliation," Ortega has referred to Cuban exiles as "gusanos" (worms or maggots), the unchristian epithet that the Castro regime has applied to all its opponents for over half a century.
The papal entourage eventually decided to give in to the dissidents' pleas for a meeting at the last minute, as an afterthought, but the results were predictably disastrous. When some democracy advocates were suddenly and unexpectedly invited to meet with Pope Francis at the Apostolic Nunciature in Havana all of them were arrested as soon as they left their homes. In addition, many other non-violent dissidents were rounded up or placed under house arrest, to prevent them from attending the pope's open-air Mass. Meanwhile, the Castro regime sent busloads of its own hand-picked supporters to the papal Mass, to ensure that Pope Francis would have a sufficiently large audience of politically-correct Cubans. Worst of all, the selection process for those who were crammed into those buses was vetted at the parish level by the Cuban Catholic Church, and approved by its bishops.
When four dissidents somehow managed to get close to Pope Francis, despite the efforts of church and state to keep all such Cubans away from him, they were quickly attacked by plain-clothed state security agents and whisked away to prison. Has Pope Francis denounced these injustices, which amount to religious persecution? Has he voiced concern over the compliance of his bishops in this persecution? No. Not a word. His silence is deafening.
The Holy Father's homily on Sunday, in Havana, focused on the vulnerable members of society, and it could have been delivered anywhere on earth. His sermon was full of beautiful sentiments, but there was very little in it about Cuba, and nothing whatsoever about the oppression, vulnerability, and poverty of the Cuban people. This sermon displayed none of the sharp-edged subtlety favored by his own Jesuit order. It was far too subtle. So subtle, in fact, that only someone with a doctoral degree in theology, rhetoric, or political science might be able to detect any reference to injustice in it.
As Newsweek has observed, seventeen years ago in his homily in Havana, John Paul II mentioned "freedom" seventeen times and "justice" thirteen times. In his homily, Francis did not mention "freedom" or "justice" once. All that Francis said about Cubans was that they are "a people which has its wounds, like every other people." In other words, Francis told Cubans that they are no worse off than any other people on earth after fifty-six years of economic and political repression, and that they really have nothing to complain about. The closest he came to upbraiding the Castro regime or to calling for an end to the enslavement of the Cuban people was to say: "service is never ideological, for we do not serve ideas, we serve people."
Ironically, dictator Raúl Castro had just greeted Pope Francis at the airport with a long speech that had less to do with his visit than with praising the failed ideology that has made Cuba one of the poorest and most repressive nations on earth. "Preserving socialism is tantamount to securing independence, sovereignty, development and the well being of our nation," said dictator Raúl.
In his long-winded speech, Raúl Castro strung together a series of lies that have yet to be challenged by the Pope or by anyone at the Vatican. Emboldened by the pope's overt approval of his regime, made manifest in their meeting in Rome this past spring, the octogenarian dictator boasted: "We have founded an equitable society with social justice and extensive access to culture, attached to traditions and to the most advanced ideas of Cuba, Latin America, the Caribbean and the world."
As if this were not cheeky enough, the unelected and unchallenged "president" Raúl Castro also claimed that he was committed to building "a prosperous and sustainable socialism focused on human beings and the family, and with the free, democratic, conscious and creative involvement of the entire society."
Fine things to say, especially for someone who is responsible for driving out into exile twenty percent of his country's population, breaking apart millions of families, and stifling all dissent and all access to outside sources of information. The Holy Father had nothing to say about these lies then or afterward.
Sadly, however, he did have something nice to say to the oppressors. According to Granma, the top official newspaper of that regime, in a private meeting Francis "thanked comrade Fidel Castro for his contributions to world peace in a world saturated with hate and aggression." If this is indeed true, Francis has overlooked the history of a consistently violent government, one of the very few to have brought the world to the brink of nuclear annihilation, and the only one in Latin America to have sent troops to three continents and to have sponsored warfare and terrorism around the globe, and to have consistently called for the extermination of Israel.
What is any Catholic to make of this? Why has Pope Francis chosen to side with the oppressors rather than with the oppressed?
God only knows. Perhaps he wants to win favor with the Castro regime so that the Catholic Church in Cuba can avoid the persecution experienced by Protestant evangelical churches on that island? Perhaps he knows that most popes who have locked horns with secular rulers have ended up losing way too much? Perhaps he is taking a cautious Jesuit approach of the sort taken by his order in seventeenth-century China? Perhaps he knows that the Catholic Church has always thought of change in terms of decades, centuries, and millennia rather than days, weeks, months, or years? Or perhaps he likes what he sees in Cuba and genuinely admires its unelected rulers? His reasoning is immaterial. What matters most is that his smiling silence and his joviality in the company of ruthless oppressors is immensely dismaying.
Pope Francis is not exactly the silent type when it comes to social, political, or economic issues. When he thinks something is wrong, he lets the world know, as he has just done in his encyclical Laudato Si', in which he champions environmentalism and excoriates materialist consumerism. A few months ago, in Bolivia, he spoke of "the unfettered pursuit of money" as nothing less than "the dung of the devil."
So, why is it that he refrained from calling the Castro regime and other such failed experiments in materialist totalitarian communism "the dung of the devil"? Is communist materialism any less fiendish? Is communist political and economic repression any less reprehensible? Why didn't he call Raúl and Fidel Castro to repentance? Why did he praise them instead?
We'd like to know why.
But who are "we," and why are "we" so impertinent, you ask?
Here is who "we" are: we who have been unjustly abused by the Castro regime, who have seen our nation ruined, who have had our relatives tortured and killed, who have seen our families torn apart by imprisonments and exile, who have been denied the right to express ourselves freely, who have been subjected to atheist indoctrination and had our right to worship denied. In brief: we who know from first-hand experience that to live in Cuba is to be a slave.
We could provide a much longer list of injustices endured for the past fifty-six years, but what would be the use? For now, all we Cuban Catholics can do is acknowledge the fact that the first pope, Saint Peter, made many, many mistakes, and that none of his successors have been infallible when it comes to politics. And we can take comfort in praying along with an innumerable throng of Christians who stretch all the way back to first century: Agnus Dei qui tollis peccata mundi, miserere nobis. Lamb of God who takes away the sins of the world, have mercy on us.