Lisbán Hernández Sánchez
Hablemos Press, noviembre 21, 2014
En la capital cubana aumenta la circulación debilletes falsos en moneda nacional (CUP) y convertible (CUC), alertan trabajadores del sector privado.
Los dueños de negocios se pasan el mensaje de alerta ante la aparición de pesos convertibles falsificados de 5, 10 y 20 CUC, dijo el lunes el dueño de una cafetería del municipio Habana Vieja, quien no quiso dar su nombre.
Asegura el cuentapropista que la desconfianza ante los consumidores se ha incrementado en los meses de octubre y noviembre debido a los constantes intentos por insertar estos billetes en paladares, dulcerías, cafeterías y entre choferes de carros de alquiler, según él ha podido escuchar en su negocio.
"A lo largo de estos dos últimos años, varios trabajadores por cuenta propia se han visto afectados con billetes falsos de 5, 10 y 20 CUC que no han logrado identificar", dijo al ser consultada una empleada del Banco Metropolitano en la habanera calle Monte.
Ariel Gutiérrez, quien trabaja en una paladar, comentó: "En agosto detecté al menos 5 intentos (de jóvenes de entre 25 y 30 años) de pagarme con billetes falsos".
Otros cuentapropistas consultados aseguran que han tratado de infiltrarles billetes de iguales cifras. "En estos actos delictivos también participan mujeres, que pasan más desapercibidas", agregó uno de ellos.
En la isla no solo circulan billetes en CUP y CUC falsos, también haybilletes de 100 dólares americanos y monedas de 1 CUC.
Un artesano dijo que intentaron pagarle con monedas falsas de 1 CUC. "Ya me habían advertido de las monedas de metal de 1 CUC y pude identificarlas con una piedra de imán que tenía en mi cartera para eso".
En Cuba circulan dos monedas, el CUP (moneda nacional) y el CUC (convertible). Según la tasa de cambio actual 1 CUC equivale a 24 o 25 CUP, según sea a la venta o a la compra.
Odalis López, residente en el municipio Centro Habana, quien realizó una transacción en una CADECA (Casa de Cambio), dijo que ella fue testigo de una conversación donde algunos trabajadores del lugar advertían que "están circulando billetes falsos, y tienen mucha similitud con los billetes reales".
Lázaro Izquierdo Ramírez, un trabajador de la construcción, comentó que en el mes de junio cambió 10 CUC en moneda nacional en la CADECA de la calle 26 y Puentes Grandes, y al pagar en una juguera con uno de los billetes de 10, le dijeron que era falso. Al revisar, encontró otros tres billetes de a 10 falsos entre los 240 pesos cubanos que le dio la cajera.
"Muchos de los empleados de los bancos, de las Casas de Cambio y hasta de las Tiendas Recaudadoras de Divisas son cómplices de los delincuentes", indicó Izquierdo, quien dijo que el propio Estado tiene conocimiento de esto.
Otros ciudadanos consultados han recibido billetes falsos de 100 y 50 pesos cubanos como vuelto en cafeterías estatales y negocios por cuenta propia.
La activista Maritza Castro, residente en el municipio Cerro, fue estafada por dos mujeres de la provincia Cienfuegos que le cambiaron 5.000 CUC por dólares americanos que resultaron ser falsos. Un grupo de jóvenes del reparto La Victoria, en Centro Habana, comentaron que uno de sus vecinos estafa a turistas en el casco histórico de la Habana Vieja con billetes Felipe Paso, que circularon hasta 1960.
"Les hace creer que los billetes viejos tienen más valor que el dólar americano. También lo hace con los billetes de 3 pesos con la imagen del Che", aseguran los jóvenes.
Según un ex prisionero consultado, en el mercado La Cuevita, del municipio San Miguel del Padrón, se pueden conseguir billetes falsos de 5 CUC a 40 CUP.
Aunque varias CADECA exhiben carteles que anuncian cuáles son los billetes falsos en moneda nacional, las autoridades no identifican el problema de fondo; tampoco los medios oficiales alertan a la población. Cabría preguntarse: ¿De dónde sacan los malhechores el papel moneda? ¿Dónde fabrican esos billetes tan realistas?
Publicado originalmente en Hablemos Press
Tres Pesos Convertibles: Not Subject to Falsification!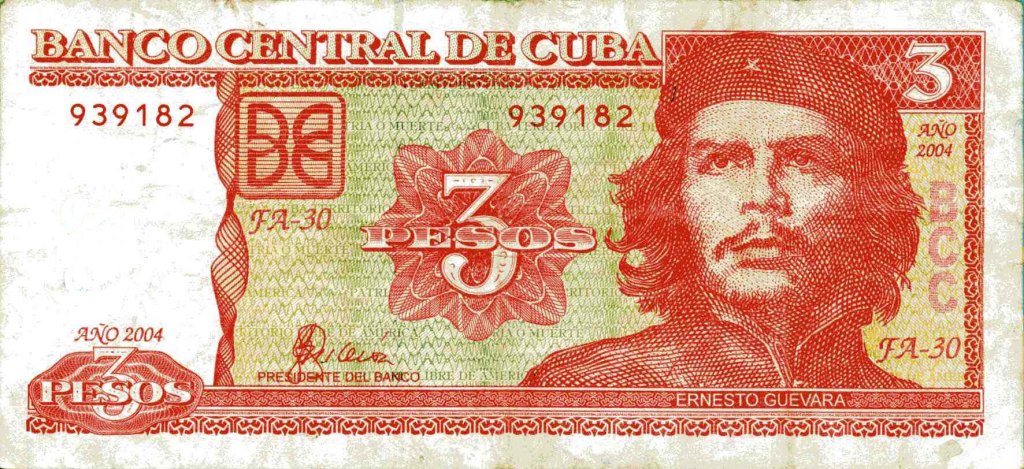 Tres Pesos , Moneda Nacional (about $US 0.12):  Not Worth to Counterfeiting?