By Archibald R. M. Ritter
June 7 2016.
 Complete Article Here:  A Futute in Manufacturing? June 7 2016
Cuba has experienced a serious "de-industrialization" from which, by mid-2016, it had not recovered. The causes of the collapse are complex and multi-dimensional. The consequences include job and income loss, the loss of an important part of its economic base, the loss of much of the potential for export expansion and diversification, and rust-belt style industrial and urban decay. Can Cuba recover from this collapse? What can be done to reverse this situation?
I.       THE COLLAPSE OF MANUFACTURING, 1989-2014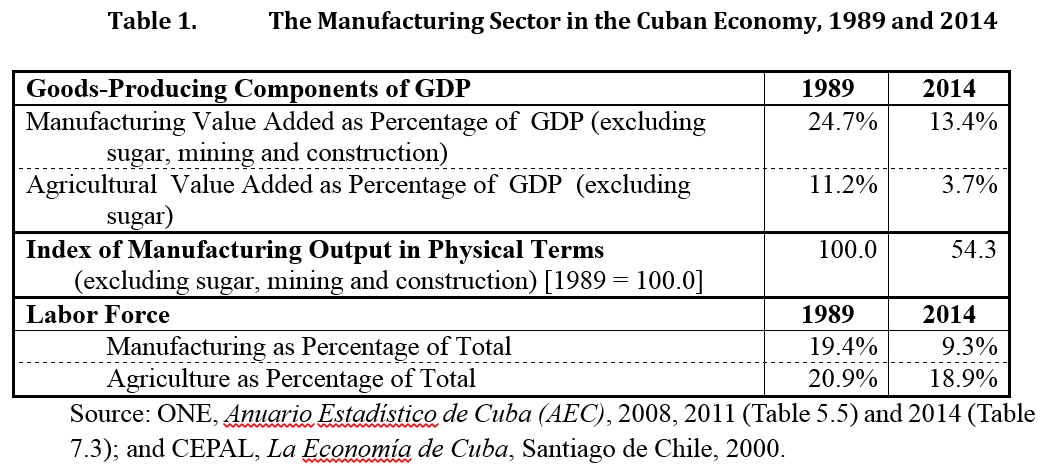 II.   CAUSAL FACTORS ANE CONSEQUENCES
III.  THE "LINEAMIENTOS" ON MANUFACTURING
IV. WHAT MIGHT BE THE SUCCESSFUL MANUFACTURING SUB-SECTORS IN FUTURE? 
V.  A POLICY ENVIRONMENT FOR THE PROMOTION OF MANUFACTURING
 CONCLUSION
 Does Cuba have a future in manufacturing?  There are some general comparative advantages as well as dis–advantages for manufacturing that Cuba is facing as of mid-2016. First, the disadvantages:
Cuba's manufacturing base has collapsed significantly;
Its capital stock and infrastructure generally is decayed and obsolete;
Low investment levels impede up-grading the capital stock;
Human skills relevant for manufacturing are badly decayed, mis-fitted and obsolete;
Cuba's domestic market size small due mainly low real income levels;
Agglomerative and scale economies are minimal.
.But Cuba also has important advantages:
Cuba's citizens generally are well-educated with an incentive for further learning;
Many Cuban citizens are energetic, creative, and entrepreneurial;
Cuba has a some strong manufacturing sub-sectors such as  pharmaceutical products and traditional products (beverages and tobacco);
Cuba has potential in some agricultural products, namely fruits and vegetables;
Cuba will be able to capitalize on its locational advantage with respect to the US market;
The potential symbiotic relationship between Cubans on the Island and the Cuban-American community will stimulate the future development of economic activities in many areas, including manufacturing.
So, does Cuba have a future in manufacturing?
The answer is "Yes" – if policy reforms are significant and expeditious regarding further enterprise liberalization and taxation and if successful monetary and exchange rate reform lead to currency convertibility.  (However, I am a pathological optimist.)
A broad-based industrial revival for Cuba is possible but will be difficult.