By Arch Ritter
Note: This commentary is more political than economic in character. It is an attempt to get some ideas "off my chest".
.
Fidel Castro's attack on the Moncada Barracks in Santiago in 1953 and his subsequent crossing of the Florida Straits in the Granma to attack the Batista regime with a small armed force certainly appear courageous – though some observers question the personal courage of Castro during these events. But once in power, he quickly moved to suppress all opposition and alternate visions of Cuba's future in order to minimize or eliminate any risk of rejection, criticism, or challenge to his power and his view of the world. Such a "stacking of the deck" in his own favor and the denial of freedom of expression and assembly to all who disagreed with him does look cowardly.
The Courage Phase: Fidel Castro (far Right) and followers arrested after the attack on the Moncada Barracks,  8/1/53
But what is cowardice and what is courage? In searching the literature via Google and Google Scholar, little analysis turned up for me, with the exception of an old essay by Joe K. Adams entitled "The Neglected Psychology of Cowardice" [Journal of Humanistic Psychology, 1965, 5; 57-69]. Adams begins his analysis with a lament that little had been written prior to 1965 on this topic. The Adams essay is the only reasonable and relevant analysis that I was able to locate, though there may be – and I hope that there would be – a substantial literature that I have not found.
Adams defines courage and cowardice in terms of the consequences that a person expects will follow from a particular course of action. The consequences may be physical, moral or intellectual and Adams (p. 58) defines them as follows:
"Physical courage-cowardice: the relative willingness to risk or undergo anticipated physical pain or injury;
Moral courage-cowardice: the relative willingness to risk or undergo undesired social consequences such as disapproval, contempt, loss of status or power, ostracism…
Intellectual courage-cowardice: the relative willingness to risk or undergo a serious disturbance of one's cognitive structure."
On the courage side, one willingly confronts anticipated injury or risk while on the cowardice side, one minimizes expected injury and risk.  How does one minimize risks of personal pain, injury, disapproval, loss of status or power, or "disturbance of cognitive structure"? In Adams words (p. 59)
"….. by rendering harmless those who might bring about (these negative consequences …. ) by destroying them, censoring them, controlling them, or changing them. Destruction, censorship, control or change must itself be brought about with a minimum of risk i.e. in such a way that one's opponents are unable to fight back. In addition to the possession of a complex and mystifying ideology, methods which are especially useful are secrecy, intrigue, deception, labeling, anonymity, entrapment, monopoly and getting others to do whatever open or fair fighting is necessary."
This indeed sounds a lot like the Regime of Fidel Castro. However, Adams was not discussing Cuba or Eastern Europe. His case studies focused on the Catholic Church, the Inquisition, John Calvin's Geneva, and political and academic ideologues (especially psychologists) circa the 1960s.
Why then did Fidel Castro shift from early courage pre-1959 to later cowardice when he found it desirable to deny people's basic political and civil rights as these are interpreted by the United Nations Universal Declaration of Human Rights, the International Covenant on Civil and Political Rights,  and the International Labour Organization Declaration on Fundamental Principles and Rights at Work? I am not in a position to give a good answer to this question, being neither a psychologist nor a connoisseur of Fidel Castro's biography. However, perhaps Lord Acton's maxim is relevant: "Power Corrupts and Absolute Power Corrupts Absolutely."  Once tasting the fruits of power, Fidel became launched on a spiral, requiring more and more control of people's lives, more and more adulation and influence. No amount of publicity and adulation ever seemed to be enough towards the end of his reign. The marches along the Malecon with him at the head became frequent and the political rallies occurred every weekend – non-stop mass mobilization to demonstrate loyalty and support for the Commandante.
Where does one see physical, moral and intellectual courage in Cuba at this time? Clearly it is with the dissidents, the Damas en Blanco, the independent journalists and economists, the Bloggers, and the labor or human rights activists who stand up to the autocratic regime – though with still small voice – at great personal risk.
Will President Raul Castro break from the political system established set by his older brother and demonstrate authentic intellectual courage?  If Raul really wanted to establish an independent legacy and an honorable place in the history books, he would return to authentic representative democracy will full practice of political pluralism and independent expression and assembly. Unfortunately such a courageous move though desirable is also improbable.
NOTE: For additional articles on various aspects of Fidel Castro's presidency, see:
Cuba's Achievements under the Presidency of Fidel Castro: The Top Ten
Fidel's Phenomenal Economic Fiascoes: the Top Ten
The "FIDEL" Models Never Worked; Soviet and Venezuelan Subsidization Did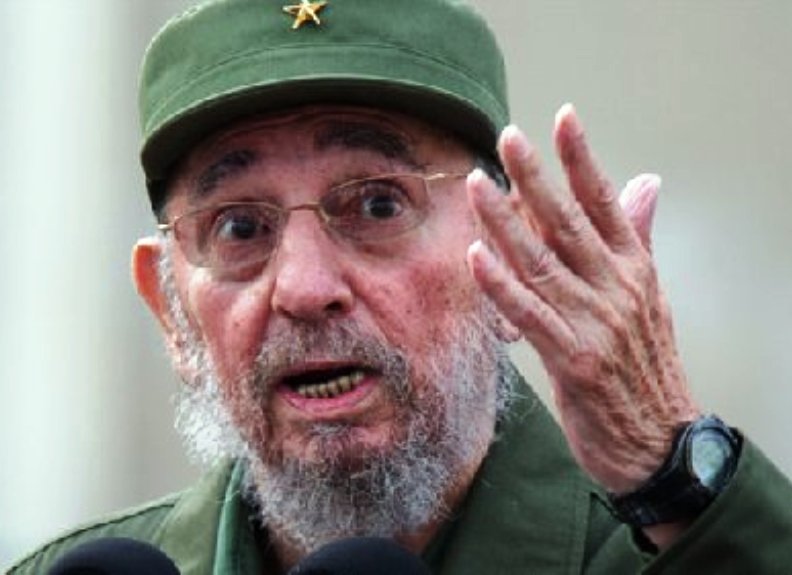 Fidel Castro, circa 2010 or 2011