William M. LeoGrande, Contributor, Professor of Government at American University
Huffington Post, 06/05/2017 07:50 am ET
President Trump has a knack for bad optics. The day after he fired FBI Director James Comey in hopes of taking the pressure off the investigation into whether his campaign colluded with the Kremlin during the 2016 election, Trump received Russian Foreign Minister Sergei Lavrov and Ambassador Sergei Kislyak in the Oval Office. Now, as Comey prepares to testify before Congress about Trump's request that the FBI halt the investigation of former National Security Advisor Michael Flynn's ties to Russia, the president is preparing to announce a Cuba policy that would clear the way for Moscow to re-establish itself as Cuba's principal foreign patron.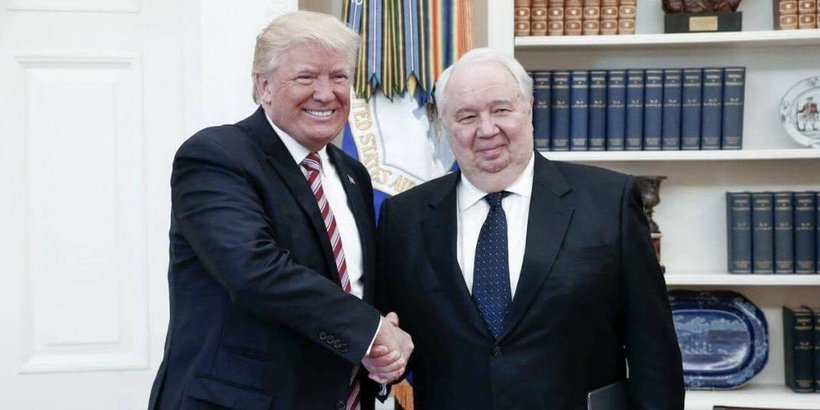 President Trump and Russian Ambassador Sergei Kislyak
According to press reports, Trump is on the verge of reversing key elements of Barack Obama's policy of engagement with Cuba, even though his own government's review concluded it is producing positive results across a range of issues, including security. If the United States reverts to a policy of hostility, U.S. adversaries will once again reap the rewards, and Russia will be first in line—just like it was in 1960.
The end of the Cold War severed Cuba's partnership with the Soviet Union, but Vladimir Putin has been restoring Russia's global influence by repairing relations with traditional allies. Russia's resurgence in the Caribbean dates to Putin's 2000 trip to Havana, followed by Raúl Castro's 2009 visit to Moscow—the first since the end of the Cold War.
In July 2014, Putin visited the island again and agreed to forgive 90% of Cuba's $32 billion in Soviet-era debt. By the time Raúl Castro returned to Moscow in 2015, Russia had signed agreements to invest in infrastructure development and oil exploration, and agreed to lend Cuba 1.2 billion Euros to develop thermal energy. When Venezuela failed to meet its promised oil shipments to Cuba, Russia stepped in to cover the shortfall.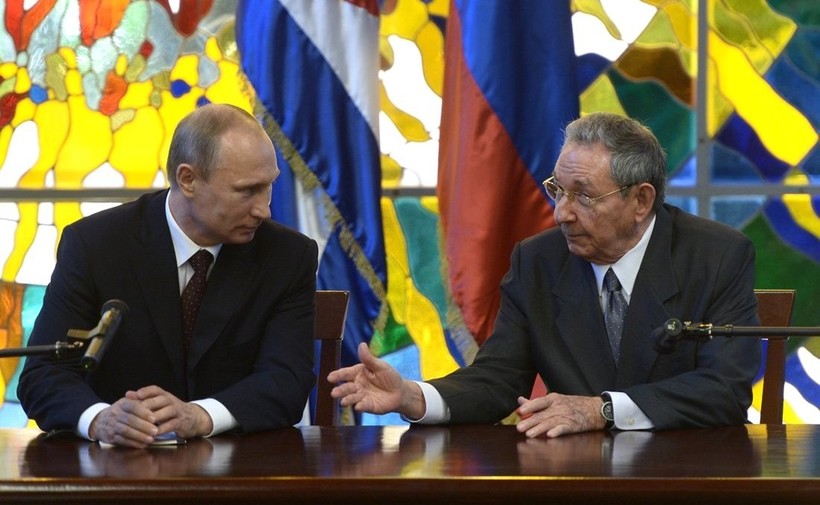 Russian President Vladimir Putin and Cuban President Raúl Castro, July 11, 2014.
The linkages extend beyond commerce. Both sides refer to their revived relationship as a "strategic partnership" with diplomatic and military components. Russia is refurbishing and replacing Cuba's aging Soviet-era armaments. Russian naval vessels visit Cuban ports, the most prominent being the ostentatious arrival of a large Russian surveillance vessel in January 2015, the day before U.S. and Cuban diplomats began talks on normalizing diplomatic relations. Russia reportedly wants to establish a military base on the island.
At the Pentagon, the intrusion of extra-hemispheric powers in Latin America has been a serious concern since 2010 when the U.S. Southern Command's annual Posture Statement first identified Russia, China, and Iran as challenging U.S. interests. Every year since, SouthCom has warned that Washington needs to increase its engagement with the region to counter the influence of outsiders.
Just this past April, Admiral Kurt W. Kidd presented the 2017 Posture Statement to Congress, declaring, "For Russia, China, and Iran, Latin America is not an afterthought. These global actors view the Latin American economic, political, and security arena as an opportunity to achieve their respective long-term objectives and advance interests that may be incompatible with ours."
For some policymakers, this geostrategic challenge mandates support for engagement with Cuba, giving Havana less incentive to expand its economic relationships with Russia and China into politico-military ones. K. T. McFarland, who served briefly as Trump's deputy national security advisor, succinctly summarized the argument for engaging Cuba before she joined the administration: "It would be foreign policy malpractice if we stood aside while our adversaries develop strong bilateral and economic — and possibly military relations."
A few months after Donald Trump's inauguration, 16 retired senior military officers, including a former commander of SouthCom, sent National Security Advisor H. R. McMaster an open letter urging the administration to maintain engagement with Cuba on national security grounds, citing successful cooperation on counter-terrorism, border control, drug interdiction, environmental protection, and emergency preparedness. "If we fail to engage economically and politically," they warned, "it is certain that China, Russia, and other entities whose interests are contrary to the United States' will rush into the vacuum."
So why would President Trump reverse a policy that his own government judges to be largely successful, and that enjoys broad support with the general public, business community, and national security establishment—especially when that reversal would give adversaries like Russia, China, and Iran a new foothold in the hemisphere? According to the White House, the answer is human rights: "As the President has said, the current Cuba policy is a bad deal," spokesman Michael Short claimed. "It does not do enough to support human rights in Cuba."
The invocation of human rights is clearly an excuse rather than the real reason. The administration has shown no interest whatsoever in human rights in Saudi Arabia, Turkey, Egypt, or the Philippines. On the contrary, the president has gone out of his way to praise and encourage leaders whose human rights records are far worse than Cuba's. Moreover, Secretary of State Rex Tillerson said explicitly that "America First" means human rights will take a back seat to U.S. national security and economic interests.
The real reason for changing Cuba policy is raw, naked politics. Cuban American Representative Mario Díaz-Balart (R-Fla.), one of the most vocal critics of Obama's policy, reportedly extracted a commitment from the White House to be tough on Cuba as the price for his vote to repeal Obamacare. Senator Marco Rubio (R-Fla.), the other main proponent of turning back the clock, sits on the Intelligence Committee investigating the Trump Campaign's Russian connections. Instead of draining the swamp, the Trump team has apparently decided that to swim in it, you have to feed the alligators.
It would be exquisitely ironic if Trump adopted Marco Rubio's failed Cuba policy in order to curry favor with him in hopes of blunting the Senate's Russia investigation— and by so doing ceded to Moscow a dominant geostrategic position on our doorstep in Cuba.
William M. LeoGrande is co-author with Peter Kornbluh of Back Channel to Cuba: The Hidden History of Negotiations between Washington and Havana (University of North Carolina Press, 2015).