William M. LeoGrande , Professor of Government at American University, Washington D.C.
9 January 20017, Huffington Post.
Original here: EIGHT MYTHS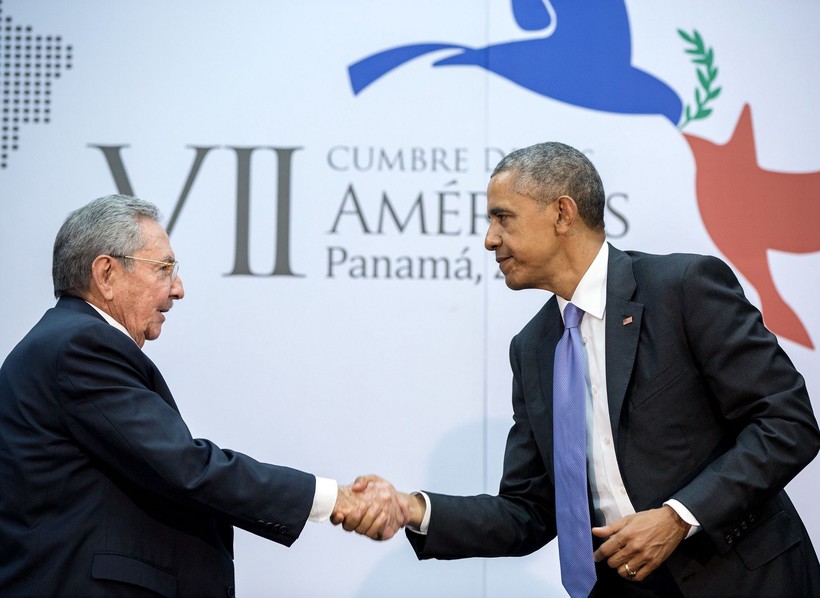 Opponents of President Obama's opening to Cuba have taken full advantage of the fact-free character of recent political debate in the United States to spread a variety of myths aimed at discrediting Obama's Cuba policy and convincing President Trump to reverse it. Here are eight of them:
Myth 1: The United States has gotten nothing in return for concessions made to Cuba.
The December 17, 2014 agreement resulted in the release of USAID subcontractor Alan Gross, CIA asset Rolando Sarraff Trujillo, and 53 political prisoners. That's not nothing.
Since December 2014, the United States and Cuba have signed fifteen bilateral agreements on issues of mutual interest that benefit both countries, including environmental protection, health cooperation, counter-narcotics cooperation, and disaster prevention and response.
The restoration of diplomatic relations benefits the United States as well as Cuba. It allows U.S. diplomats to provide better counselor services to U.S. visitors and Cuban immigrants, to have broader interaction with Cuban civil society, including dissidents, and to travel all over the island to assess conditions outside Havana and to verify Cuban compliance with 1995 migration accord. If we break relations, the United States will have no diplomatic representation in Havana, whereas the Cubans will still have their UN mission in New York.
Obama's relaxation of travel regulations restores, in part, U.S. citizens' constitutional right to travel which the Supreme Court has said should only be abridge for compelling reasons of national security.
Obama's relaxation of restrictions on trade has focused mainly on trade with Cuba's private sector and trade that benefits Cuban consumers. Expanded trade benefits U.S. businesses and generates jobs, which is why hundreds of companies have been investigating opportunities there. Continued restrictions simply open the door to European and Asian competitors.
Removal of Cuba from the State Department's list of state sponsors of international terrorism was not a concession, but rather an acknowledgement, backed by the intelligence community, that Cuba no longer fit the statutory designation to be classified as a state sponsor. Ending the designation opened the door to cooperation on countering terrorism and transnational crime through the bilateral law enforcement dialogue. It also enabled the United States and Cuba to cooperate to reach a peaceful settlement of the war in Colombia, the last remaining insurgency in Latin America.
The opening to Cuba dramatically improved U.S. relations with allies across the hemisphere, where the old policy had become an obstacle to cooperation on issues like narcotics trafficking, migration, and trade.
Myth 2: Obama rescued the Cuban regime from economic and political collapse that was imminent because of the collapse of Venezuela.
Even without Venezuelan oil, the Cuban economy is not on the verge of collapse. Pavel Vidal, a respected Cuban economist now living abroad, estimates the loss of Venezuelan oil will cause a 2.9% fall in Cuba's GDP in 2017. By contrast, Cuban GDP fell 35% during the 1990s when Cuba lost Soviet aid and the regime did not collapse. The Venezuelan shock will hurt, but is not a matter of life and death.
Economic benefits to Cuba from the U.S. opening have been modest, limited to the increase in non-Cuban American U.S. visitors following December 17. Although the number has grown from 91,000 in 2014 to 267,000 in 2016, U.S. visitors still represent less than 7% of the four million foreigners who visited Cuban in 2016—hardly enough to make the difference between economic survival and collapse.
The principal U.S. economic sanctions on investment and trade with Cuba remain in place. U.S. investment is prohibited except in very narrow areas like telecommunications. Cuban state enterprises cannot export to the U.S. market except in the pharmaceuticals sector. U.S. businesses cannot sell to Cuban state enterprises except consumer goods and services for the general public.
Myth 3: The Cuban people do not benefit from tourism; all the money goes to the government.
Even if all the revenue from tourism did go to the government—which it does not—the expansion of the tourist industry generates jobs at the airports, hotels, restaurants, etc., and has a multiplier effect in local communities. This is plainly visible in the relative prosperity of towns near tourist locales outside Havana vs. towns off the tourist track.
Work in the state tourist sector is highly sought after by Cubans because it offers access to convertible currency tips that make it possible to have a decent standard of living. As of 2014, 755,600 Cubans worked in tourism representing 15.2% of the labor force—an increase of 16.9% since 2009. These numbers don't take into account the increase in U.S. visitors in the past two years.
Private restaurants and B&B rentals are proliferating, with most of the high-end ones catering primarily to foreign visitors. Most of the licenses for self-employment are for restaurants and casas particulares, which together comprise the backbone of the urban private sector That is why some of Cuba's most prominent private entrepreneurs have urged President Trump not to reverse President Obama's opening to Cuba.
Myth 4: Obama betrayed the Cuban people and Cuban dissidents to partner with the government.
The Cuban people don't feel betrayed by Obama's opening to Cuba; they support it overwhelmingly. In an independent poll commissioned by the Washington Post, 97% of Cuban respondents thought better relations with the United States were "good for Cuba." Lest you think people were afraid to respond honestly, 48% of these same respondents expressed unfavorable opinions of Raúl Castro and 50% expressed negative opinions of Fidel Castro.
Even among Cuban dissidents, there are those who support Obama's policy because they see it as helping to create greater political space on the island and undercutting the government's excuse for limiting political liberties.
Myth 5: The human rights situation in Cuba has gotten worse since December 17, 2014.
The human rights situation in Cuba has not improved for dissidents, but it has improved for everyone else. The Cuban Commission of Human Rights and National Reconciliation tracks arrests of political dissidents and reports that the number in 2014 (before Obama's policy change) was 8899; in 2015, it was 8616; and in 2016, it was 9940. Typically, people arrested are detained for several hours and released without being charged, so many of the reported arrests are of the same people being detained repeatedly. On this measure, the Cuban government's human rights record has not improved since U.S. policy changed. However, in previous years, dissidents were frequently charge with serious crimes and sentenced to long prison terms, a practice that has become much less common.
In its 2015/2016 annual report, State of the World's Human Rights, Amnesty International criticized Cuba's continuing denial of political liberties, but reported that Cuba had released all of the people Amnesty had designated "prisoners of conscience."
Cubans today than have greater economic and personal freedom than they had several years ago— freedom to start their own businesses, buy and sell real estate, own computers and cell phones, and travel abroad.
Cubans have far greater access to information as a result of expanded Internet availability, a change that came directly out of the negotiations that produced the December 2014 change in U.S. policy. Internet expansion has also led to the proliferation of independent blogs and digital media sites critical of the government.
Myth 6: Cuba is strategically insignificant, so there's nothing to lose by taking a tough position demanding democracy.
Cuba and the United States cooperate to combat narcotics trafficking and human smuggling and trafficking through the Caribbean, two of the most important security issues facing the United States in Latin America. That cooperation could be crippled by a return to the policy of hostility.
A return to the policy of hostility would alienate Latin America, whose active cooperation the United States needs to deal with transnational issues like drug trafficking, migration, and environmental protection.
China and Russia are both seeking to expand their influence not just in Cuba, but in the Latin American region. A return to the policy of hostility would give Cuba an incentive to cooperate more closely with China and Russia in strategic as well as economic spheres. It would also provide China and Russia with new opportunities in Latin America generally.
Myth 7: The Castros are creating a family dynasty like North Korea.
Cuba has a constitutional succession process, and neither Fidel nor Raúl Castro's children are positioned to succeed them.
None of Fidel Castro's children have positions of political authority.
Raúl Castro's son Alejandro Castro serves on his personal staff and was responsible for negotiating the agreement with the United States announced on December 17, 2014. He is obviously a trusted aide. But he is only a colonel in the Ministry of the Interior. He is not a member of the Central Committee of the Cuban Communist Party, let alone the Political Bureau, where the key decisions are made. He is not among the 600+ deputies in the National Assembly, let alone its executive body, the Council of State. There is no evidence that he is in line to succeed his father a year from now, as some people speculate.
Raúl's daughter, Mariela Castro, heads the Cuban National Center for Sex Education and has been an outspoken advocate for LGBT rights. She is a member of the National Assembly, but not of the Party Central Committee, and has confined her public work to issues of sexuality.
Colonel Luis Alberto Rodríguez, head of the economic branch of the armed forces which manages a number of major economic enterprises, is Raúl Castro's son-in-law. He is a member of the Central Committee, but not the National Assembly, and has no public profile.
Raúl Castro's other two children have no public roles or positions.
Myth 8: Trump won Florida because Cuban Americans supported his hard line on Cuba.
Cuban Americans do not support a hard line on Cuba. Polls show a clear majority in support of engagement. Florida International University's 2016 poll found 69% in support of the restoration of diplomatic relations and the 63% opposed to continuing the economic embargo. Even larger majorities favored travel and trade.
Cuban Americans did not vote overwhelmingly for Trump. Hillary Clinton won South Florida by 100,000 more votes than Barack Obama did in 2012. Trump won 52-54% of the Cuban American vote, only a few percentage points better than Mitt Romney and far below the 2-1 margins Republicans used to wrack up before 2012. By contrast, in the predominately white rural counties along the I-4 corridor and in the panhandle, Trump crushed Clinton by huge margins. Trump won Florida for the same reason he won Pennsylvania, Ohio, Michigan, and Wisconsin—high turnout among white blue collar voters.