By Carlos Lozada, Washington Post, November 25
Review of "FIGHTING OVER FIDEL: THE NEW YORK INTELLECTUALS AND THE CUBAN REVOLUTION" by Rafael Rojas,  Princeton University Press. 312 pp. $35.
Original here: Fighting Over Fidel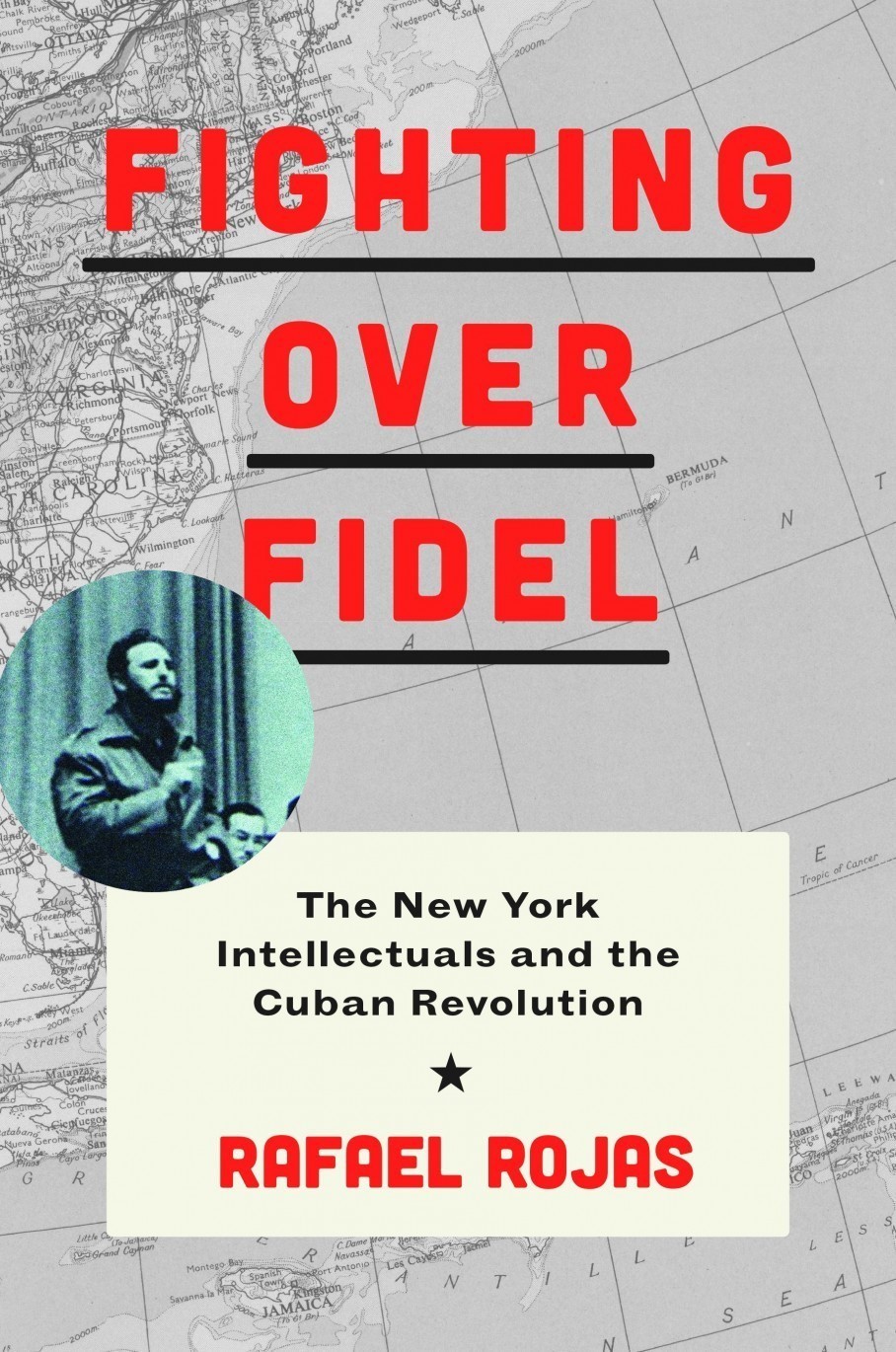 One of the sharpest divides between political and intellectual life is that changing one's mind is unforgivable in the former and inevitable in the latter. For politicians, consistency is prized; switching positions elicits the dread flip-flopping charge. Among intellectuals, by contrast, dalliances with competing ideologies over the years are an almost required rite before settling on a worldview — ideally one stronger for the journey — that underpins subsequent inquiry.
Historian Rafael Rojas has written an oddly captivating account of the Cuban revolution as a moment when these two worlds clashed, when a political revolt in one nation upended intellectual forces in another. Rather than focus on Fidel Castro, Che Guevara, John F. Kennedy or the other usual suspects of this Cold War era, Rojas tells the story of the left-wing academics, beat poets, Black Panthers and radical journalists in the United States, particularly in New York, who initially embraced Cuba's transformations only to splinter over Castro's repression of individual freedoms and the island's move toward the Soviet orbit. "The complex relation between the New York left and Cuban socialism," Rojas writes, "oscillated between a sense of the promise Cuba represented for leftist libertarianism and the sense of disenchantment that resulted from Havana's alignment with Moscow."
The initial optimism emerged from Castro's early promises. When the New York Times interviewed him in 1957, in a dispatch from the Sierra Maestra mountains by Herbert L. Matthews, the young revolutionary declared that he held no animosity toward the United States, that his struggle was against dictatorship in his own country. In 1959, during his first U.S. trip, he pledged that elections would come quickly to Cuba, as soon as the revolution's social transformations to end poverty and improve health and education were underway. "I advise you not to worry about communism in Cuba," he declared. "When our goals are won, communism will be dead."
Princeton University Press
At the time, American leftists were inclined to regard the revolution less as a Cold War battleground than as an upstart victory in the global conflict between rich capitalist nations — especially that great imperialist to the north — and colonial or postcolonial countries. So strong was this perspective that in his book "Listen, Yankee," Columbia University sociologist C. Wright Mills (popularizer of the term "new left") wrote that "the Cuban Government, as of mid-1960, is not 'communist' in any of the senses legitimately given to this Word. . . . The leading men of Cuba's Government are not 'Communist,' or even Communist-type." By the third printing of the book, Castro had pronounced the socialist character of the revolution and — after the failed Bay of Pigs invasion in 1961 — had lauded the scientific prowess of the Soviet Union, his soon-to-be patron. Waldo Frank, a social critic and historian of Latin America, found himself in a similar plight; his 1960 book "Cuba: Prophetic Island," arguing that Cuban socialism could develop to be different and independent from the Soviet Union, proved anything but prophetic, as the revolutionary government began evolving into an oppressive one-party regime with a Marxist-Leninist cast.
Condemnation would arrive, though with caveats. In the left-wing journal Dissent, Daniel M. Friedenberg wrote critically of the Castro regime's "xenophobia, hate campaigns, the retreat into phantasy fears, the dependence on communist support, the swollen Army, the rigid control of radio and press." But he concluded that such "frightening symptoms of dictatorship" were responses to the colonialist, interventionist mind-set of U.S. foreign policy. The prime mover, the true culprit, was still outside the island; Castro remained absolved.
The beat poets, exemplified by Allen Ginsberg, were less forgiving. Initially impressed by Castro's meeting with Malcolm X in Harlem in 1960, Ginsberg would soon portray him "as one more Latin American caudillo," Rojas writes. In his "Prose Contribution to the Cuban Revolution," published in 1961, the poet decries the mechanisms of social control that he saw in laws and codes against drug use and homosexuality, in communist as well as capitalist systems. "No revolution can succeed if it continues the puritanical censorship of consciousness imposed on the world by Russia and America," he wrote. And during a trip to Havana in 1965, Ginsberg denounced the regime's repression of young Cuban writers and even posited that Raul Castro was gay, earning the poet a quick deportation.
Rojas is most energized when discussing the multiple views of the Cuban revolution among African American civil rights activists and leaders of the Black Panther Party in particular, perhaps because their opinions were varied and less easily categorized. Party co-founder Huey P. Newton "advocated subordinating the black cause to a larger socialist cause," Rojas writes, and admired the mix of nationalism and socialism that he saw in Ho Chi Minh's Vietnam and Castro's Cuba. Others such as Stokely Carmichael, however, rejected any prospect of Cold War alliances with the Soviets or did not necessarily link racial emancipation in America to a socialist project, Rojas explains. Meanwhile, Black Panther leader Eldridge Cleaver noted that few of the Cuban revolution's commanders were black and highlighted the racism in the island's daily life and ideological rhetoric.
Cuban revolutionary intellectuals, for their part, admired America's militant black civil rights leaders, even devoting a full issue of Pensamiento Critico, a journal edited by Cuban philosophers and Marxists, to the Black Power movement in 1968, interviewing Carmichael, Newton and others. "The revolutionary struggle of American blacks was demonstrating that it was possible to strike the enemy in its own technologically developed heart," the editors wrote.
"Fighting Over Fidel" is translated from Spanish, and it reads that way. There are sentence constructions and word choices that I suspect flow more easily in the original. ("Desencuentro," for instance, is a lovely noun in Spanish, connoting failed expectations and sundered connections; "disencounter" just makes a jarring noise on the page.) And the author frequently reintroduces characters we've already met, sometimes just a few pages ago.
Such moments are forgiven, however, when Rojas introduces us to relatively obscure left-wing advocacy groups in New York that supported the revolution, such as the Fair Play for Cuba Committee or the unforgettably named League of Militant Poets. League members published the radical magazine Pa'Lante, featuring works by Ginsberg, photographer Leroy McLucas and poet Michael McClure. Alas, Pa'Lante survived but a single issue before its editors became disenchanted with the Cuban revolution — just another example of the oscillations between enthusiasm and disappointment, sympathy and tension, among distant thinkers observing a distant land. As Rojas puts it, a bit awkwardly but by all means memorably: "The socialist conga dance that these intellectuals of the New York Left joined in 1961 ended like the congas of the Havana carnival always end: in dissolution and complaints."
A warning: If you're wondering how the evolution of left-wing thought in New York affected the Cuban government or U.S. policy toward the island — indeed, affected anything beyond itself — don't look here. Rojas admits early on that "New York's critical debates on the Cuban Revolution naturally had few effects" on Washington's approach to Cuba. "Fighting Over Fidel" is intellectual history entirely for its own sake, and as such, it succeeds. If you're more interested in high-stakes national security dilemmas than in special issues of briefly published Marxist journals, go read "Essence of Decision." But if you're curious, intellectually or otherwise, stick with Rojas. I suspect you'll be glad you did.