Despite the thaw with the United States, politics is paralysing the economy.
The Economist, May 16th 2015 | HAVANA
Original here: ECONOMIC REFORMS AND POLITICS
 BY DAY grey-haired Americans trundle through the streets of Havana in pink 1957 Chevy convertibles, klaxons blaring. By night they recline over rum and cigars, tipping generously, listening to hotel salsa and reminiscing about the cold war. Many of the new American visitors to Cuba, whose numbers have surged since a diplomatic detente in December, are old enough to remember life before the internet and relish a few days in one of the world's last Facebook-unfriendly bastions. What tourists find quaint seems stifling to many Cubans themselves.
For a lucky minority life has improved since "D17" (December 17th), the day Barack Obama and his Cuban counterpart, Raúl Castro, announced that they would seek to end five decades of hostility. Mr Obama's decision to relax some restrictions on American visitors is expected to push tourism to Cuba up by 17% this year, bolstering foreign exchange by around $500m, or 1% of GDP, estimates Emily Morris, an economist at the Inter-American Development Bank. Visitors spend CUCs (Cuba's dollar-equivalent hard currency) at a few swanky private restaurants where the quality (and prices) have reached fashionable Florida standards. Cubans are borrowing whatever they can to spruce up accommodation in a city where hotels are now booked up weeks in advance. According to Omar Everleny, a Cuban economist, 18,000 private rooms have become available. That is the equivalent of 31 new hotels the size of the 25-storey Habana Libre.
This activity is expected to boost economic growth from last year's meagre 1.3%. But there is little sign as yet of the $2.5 billion a year in investment that the government hoped to woo with a new foreign-investment law last year, mostly because it sends mixed signals. It has authorised at most two manufacturing projects at its Mariel port and special economic zone, despite hundreds of applications. It continues to view private business with distaste, and believes socialist state enterprise will remain the core of the Cuban economy. As one economist puts it, "the government wants to create prosperity, but it doesn't want to create prosperous citizens."
As a result, it risks creating neither. Some of the 500,000-odd people self-employed in private enterprise—about 10% of the labour force—benefit from earning hard currency, and represent a nascent middle class. Unlike the rest of the labour force, their productivity is improving.
But the majority who work in the state sector earn Cuban pesos, live on ration books and can barely make ends meet unless they receive remittances from abroad or do informal jobs illegally. This produces stark inequality, which is exacerbated by shortages, especially of food. Some of the new restaurateurs admit that they face wrath in Cuban supermarkets when they pull out wads of notes to stock up on scarce beer, milk and cheese, leaving shelves empty and pushing prices higher. They insist it is not their fault; the government has failed to open up well-supplied wholesale markets or allow them to import goods. But that argument counts for little with a hungry public.
What's more, it exacerbates a vicious circle in which disgruntled government employees slow down at work, further sapping output and causing more shortages. In a bid to counter inequality, the government has raised salaries of favoured state workers such as doctors. It has authorised public entities such as the sugar monopoly to raise pay if productivity improves (this year, sugar production is up 22%). But partly as a result of higher wages, the budget deficit is expected at least to double to above 6% of GDP this year.
All this creates a headache for Mr Castro. He has less than a year before a Communist Party congress next April. There he will have to defend reforms launched at the previous congress in 2011, including a planned unification of Cuba's two currencies (see article), despite their disappointing results so far. Mr Castro must also worry that a Republican will succeed Mr Obama, who will leave office in early 2017. To forestall a renewed tightening of the American embargo, he will want to show that Cuba is making economic progress.
Next April's congress could also mark the start of a generational change in Cuba's leadership. Mr Castro, who took over from his brother, Fidel, in 2008, is expected to step down as president in 2018. He has said that he is keen to promote younger leaders, replacing the "historic generation" of octogenarians who fought under Fidel in the 1959 revolution.
He is grooming Miguel Diáz-Canel, the 55-year-old first vice-president, to replace him. There is a possibility that Mr Castro could step down as head of the party next year. Economists working for the government say some of Mr Diáz-Canel's peers are receptive to reformist ideas. They are often seen carrying PCs or tablets, suggesting an interest in bringing more internet to Cuba. But they are also reluctant to defend reform publicly, so it is hard to know what they stand for.
Many in the establishment are terrified that change will jeopardise what they see as the main gains of the revolution, such as free education, health care and welfare. "The economy has to become more efficient, but you can't ignore our principles or you'll get a tsunami of capitalism washing over the whole island," says Luis René Fernández of the University of Havana.
Mr Castro may be preparing to take on Communist Party conservatives. The party's central committee said in February that it would discuss a new electoral law at next year's congress. It gave no details; no one expects anything like political freedom. The aim may be to pressure mid-level bureaucrats to stop paralysing reform. "Change starts from the top and those at the bottom want it, but it gets stuck in the middle," says Rafael Hernández, editor of Temas, a social-sciences journal.
Mr Hernández believes that a priority for the government will be a stronger National Assembly that can approve laws to underpin economic liberalisation, such as the right to own a business (currently, private firms, however prosperous, are considered "self-employment"). He also argues that professionals such as lawyers, teachers and doctors should be able to moonlight from their state jobs in private consultancies, consolidating a "socialist middle class" that pushes for further reform. However, he frets that hardship has made ordinary Cubans apathetic about greater political representation. For them "the glass is always half empty."
Among intellectuals, though, resistance is growing. Dagoberto Valdés, editor of Convivencia, a Catholic journal, says the American thaw has robbed the regime of its ability to cast its neighbour as an "external enemy", so its own shortcomings have moved into the spotlight.
El Capitolio, a marble landmark in central Havana, modelled on (and with a bigger dome than) America's Capitol, points to a brighter future. It is being refurbished and is supposed to become the seat of the National Assembly for the first time since 1959. Alberto Pagés, a wiry old man who for 30 years has been operating a homemade box camera for small change on the building's steps, thinks it will attract more tourists and could become "a symbol of how Cuba and the United States can look more like each other". But ask him whether it could also become a harbinger of democracy and he clams up. "I know absolutely nothing about politics," he mutters.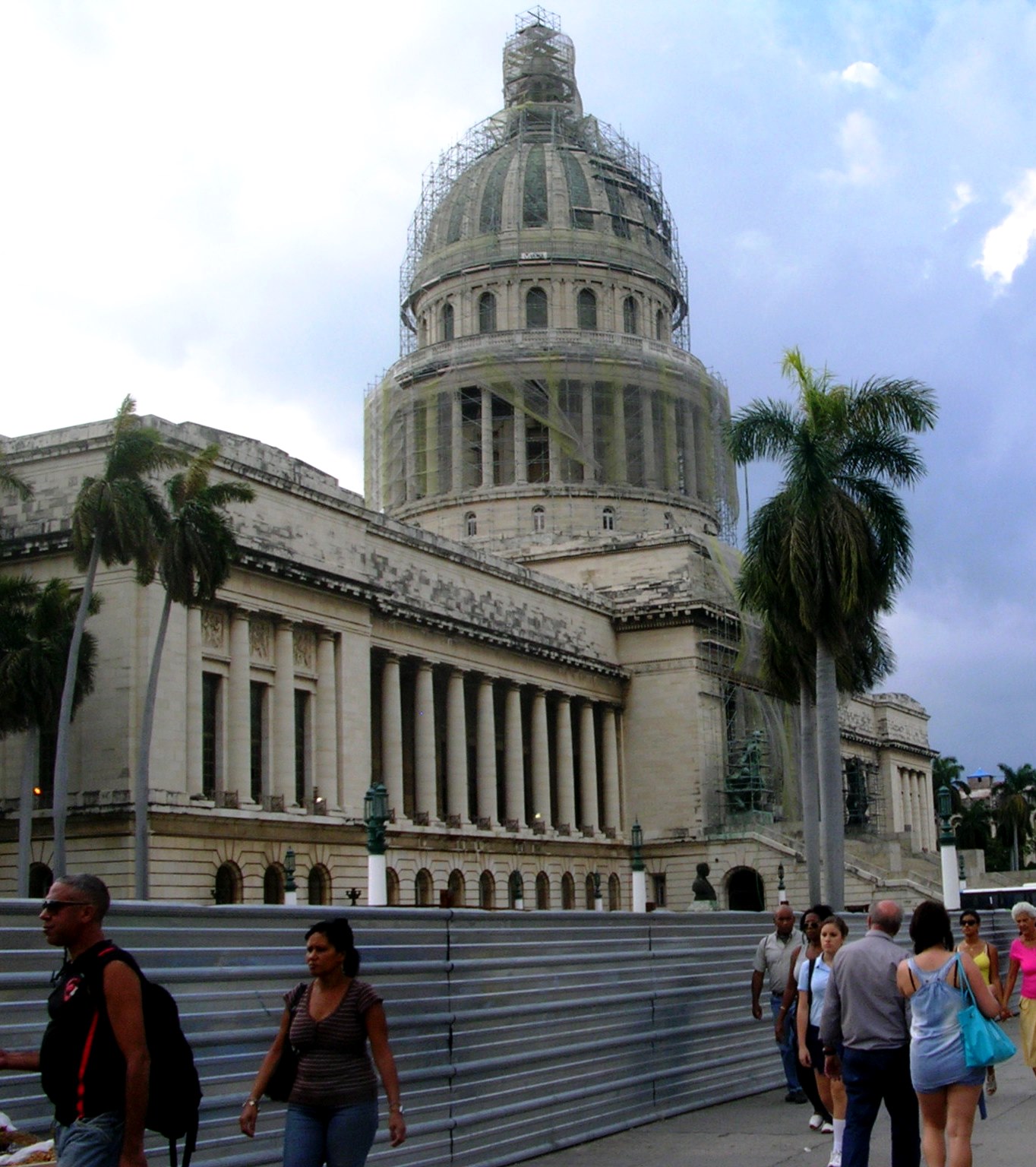 The Capitolio, Under Repairs.
After 56 years. the prospective home of the National Assembly once again,
A rationed food outlet on Calle Jovellar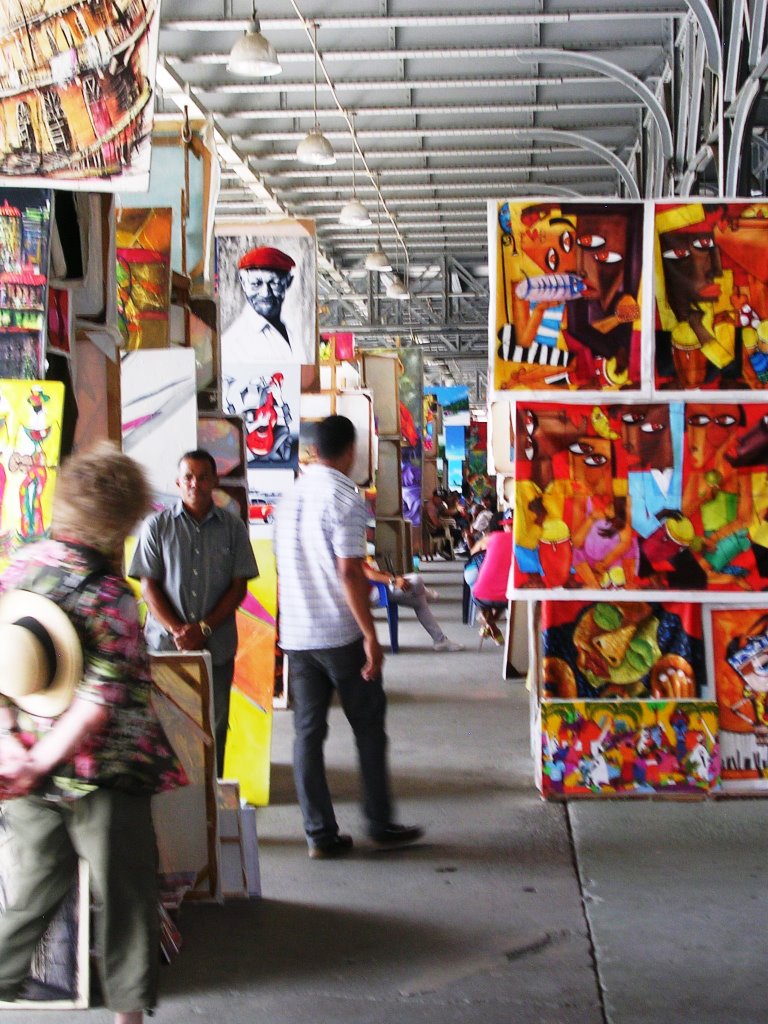 The Art and Crafts Retailing Center in a Converted Warehouse, a showcase of Cuban ingenuity and creativity.