DANIEL TROTTA
HAVANA — Reuters; , Feb. 21 2015, 2:00 PM EST
Original here: http://www.theglobeandmail.com/news/national/canadian-ceo-returns-home-after-imprisonment-in-cuba/article23139650/
 Cuba has freed Canadian businessman Cy Tokmakjian after more than three years in jail, his company said on Saturday, resolving a case that had strained Cuban-Canadian relations and alarmed foreign investors.
Tokmakjian, founder of the Ontario-based company, was convicted of bribery and other charges and sentenced to 15 years in September in what the transportation company had called a "show trial" and a "travesty of justice."
Cuban prosecutors had outlined a pattern in which Tokmakjian wooed Cuban officials and their families with a series of gifts, helping the Tokmakjian Group do business estimated at $80 million annually with Cuba until the company was shuttered and its founder arrested in September 2011.
Tokmakjian "was welcomed home by his family, friends, and thousands of employees," said the company statement, which also thanked the Canadian government. A spokesman said the 74-year-old was released early Saturday.
The statement made no mention of two Canadian aides from the Tokmakjian Group, Claudio Vetere and Marco Puche, who were also convicted and sentenced to 12 and 8 years. They had been under house arrest pending trial and while their convictions were being appealed.
Fourteen Cubans including the former deputy sugar minister and the former director of the state nickel company were also convicted and sentenced to terms ranging from 6 to 20 years.
Foreign companies and diplomats had raised concerns that Tokmakjian's case could scare off investors while Cuba was actively seeking foreign capital. It also annoyed Canada, a major trading partner.
"His ordeal is a cautionary tale to any investor who thinks the Cuban playing field is level," said Peter Kent, Tokmakjian's member of parliament.
Cuba seized about $100 million worth of company assets including bank accounts, inventory and office supplies, a ruling the company was challenging in international arbitration.
No immediate reason was given for the sudden release of Tokmakjian, whom Cuba had previously hailed as a model business partner over 20 years for supplying crucial transportation equipment during a severe economic crisis after the collapse of the Soviet Union.
The company was later caught up in an investigation of Cuba's international trading sector, part of a crackdown on corruption.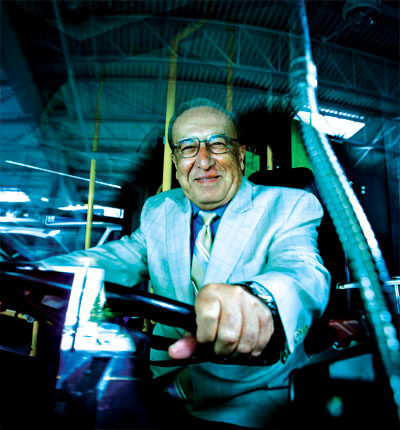 Cy Tokmakjian
Throughout the time Tokmakjian was tried in June and sentenced in September, the Canadian government was helping the United States and Cuba by serving as host to secret talks on restoring diplomatic ties.
It was unknown whether Canada's role had any influence on Tokmakjian's release.