By Mimi Whitefield, Miami Herald
12/14/2014
Read more here: New Economy
Just a couple years ago, tourists who wanted to sample one of Cuba's paladares were on their own. A bus from state tour operator Havantur wouldn't think of stopping to allow visitors to dine on roast pork or grilled red snapper at one of these small private restaurants.
No more. Now, government tourism companies are doing business with them, booking reservations for tour groups at both paladares and casa particulares — private bed-and-breakfasts. "A few of our casas have been block-booked by Havanatur and Transtur," said Matthew Sellar, who runs Scotland-based CubaCasa, an online booking site for private accommodations.
Call such co-existence the inevitable advance of market forces as the hemisphere's only communist nation reforms its creaking state-owned, centrally planned economy. But entering the fifth year of a process that ultimately led to the economic reforms, the changes are still very much a work in progress with daunting challenges ahead.
MUCH UNFINISHED WORK REMAINS AS CUBA REFORMS ITS ECONOMY
The reforms are not nearly as fast or as profound as many — inside and outside the country — would hope. Cuban leader Raúl Castro has often said the process will continue "sin prisa pero sin pausa" (without haste but without pause).
Since the economic guidelines — or lineamientos — were approved, Cuba has allowed limited self-employment and worker-owned cooperatives, revamped its foreign investment law and agriculture system, allowed the private sale of homes and cars, changed rules so Cubans can more freely travel abroad and begun to phase out the ration book.
"The biggest change is that the government and the party have now accepted the idea of a larger private sector," said Phil Peters, president of the Cuban Research Center and a regular traveler to Cuba. "You see it in every town in Cuba — and it's being discussed around every family table in Cuba. It's a huge ideological shift, and it's not something you would have seen under Fidel Castro."
But when Spanish Foreign Minister Jose Manuel Garcia-Margallo visited Cuba in November, he urged the government to pick up the pace. "Spain would like to see a more rapid pace to the economic reforms that give more space for private initiative and foreign investment," he said.
The changes extend beyond the purely economic.
In 2013, Cuba removed the bureaucratic barriers that made it so hard for Cubans to take foreign trips and also allowed its people to stay abroad for up to two years without losing citizenship rights. That meant Cubans seeking an economic solution no longer had to leave their homeland definitively to take part in the global economy or seek new opportunities.
The reforms also have laid bare Cuba's racial divide. But unlike in the past, the government has now sanctioned discussion about the economic inequities between blacks and whites.
"The population generally speaking wants change. There is a thirst for change," said Arch Ritter, an economist and Cuba scholar at Carleton University in Ottawa. "The economic changes are real." But the government "could prevent the reforms from going much further if they threaten the political control of the [Communist] Party," he added.
Already some targets have slipped. The government initially said it wanted to move 500,000 Cubans off state payrolls into self-employment by 2011. Then the target was revised to 1.8million workers by 2015. Early this year, state payrolls had been reduced by 596,500 workers through layoffs and by converting workplaces to co-ops. Some 476,000 self-employed workers were registered at the end of September.
But analysts say significantly speeding up dismissals from state enterprises is risky for the Cuban government because it could cause social problems.
So far, the government has made reforms only around the edges. Castro talks of perfecting or updating the current socialist system instead of doing away with it. But it's also clear Havana wants a smaller government, a more vibrant economy and citizens who don't look at emigration as the only solution to economic problems.
Though the government has blown hot and cold on foreign investment, officials now say foreign investors are essential to spurring the type of growth Cuba needs to develop. This fall, it released a wish list of 246 projects for which foreign money is welcome.
And the 800-pound gorilla — unifying Cuba's dual monetary system and fixing its haphazard pricing system — has yet to be dealt with, although the government says it is preparing conditions for elimination of the two-tiered system.
What all the reforms will add up to is something of a mystery. "The Cuban government hasn't set out clearly what the desired end state should be. They haven't laid out a clear development model," said Richard Feinberg, a professor of international political economy at University of California, San Diego and a senior fellow at the Brookings Institution.
Castro — who officially became Cuba's leader in 2008, two years after he took the reins from his ailing brother — has made it clear he won't be rushed. He "likes to experiment before moving forward and measure the results and the repercussions," said Domingo Amuchastegui, a former Cuban intelligence analyst who now lives in South Florida.
"That's reasonable, but Raúl just doesn't have the time," said Carmelo Mesa-Lago, a Cuba expert and economics professor emeritus at the University of Pittsburgh.
FAILED STATUS QUO
The reforms were fueled not so much because Cuban leaders truly embraced them but because they had little choice as the world shifted, support from traditional allies came into question, and the economic status quo became unsustainable.
Cuba has previously flirted with economic reforms and pulled back when its economy has improved. But Amuchastegui said "reversing the process is now out of the question, and everyone knows that."
So far, the results have been mixed and economic growth has remained sluggish.
The Cuban economy is expected to grow by only 1.3 percent this year, according to government estimates. The 2014 target was 2.2 percent. The merchandise trade deficit in 2013 topped $9billion — the second-highest ever.
At a recent Cabinet meeting, Economy Minister Marino Murillo Jorge said 2015 growth was expected to come in at just over 4 percent. The U.N. Economic Commission for Latin America and the Caribbean estimates 2015 growth at 3 percent. Mesa-Lago finds both estimates optimistic.
The problem in gauging the reforms' success or failure, said Peters, is that the process isn't complete. "There has been substantial progress in many areas, but they're not done," he said.
Although self-employment is proceeding more slowly than the government envisioned, it now seems to have moved beyond simply legalizing the shadowy realm of Cuba's informal economy and black marketeers.
Among the most popular fledgling businesses are those linked to the tourist trade. Both casas and paladares have been legal since the 1990s, when the collapse of the Soviet Union plunged Cuba into an economic crisis. Then the regime seemed to view them grudgingly as competition rather than business partners.
"Now, they've begun to integrate them into the broader economy," said William LeoGrande, an American University professor who specializes in Latin America.
Also spurring the establishment of new paladares is a change in rules that allows them to hire staff rather than just family members. Up to 50 seats are also permitted, compared to 12 previously. Mood lighting, contemporary art, terrace or poolside dining, nouveau cuisine and Cuban fusion dishes are among the features of the most upscale ones.
Sellar recently visited Havana to add more casas particulares to his online booking site. The 20 new ones he liked will bring the total on the site to 120. During the high season in December and January, most have no vacancies, he said. Casa owners also have been busy upgrading with new Chinese bathroom fixtures, air conditioning — even rooftop hot tubs — and adding services. The Artedel Luxury Penthouse in Havana, for example, offers a private driver, a translator and assistant, massage and laundry and will organize salsa and Spanish classes for guests.
In September, the government announced plans to gradually shift Cuba's 8,984 state-owned restaurants into private hands — although it will still own the land they sit on. And more than three years ago, the government began turning over state-owned beauty salons and barber shops to employees who run them as cooperatives. Murillo said the creation of 498 cooperatives has been approved, and 329 of them are in operation. Another 300 proposals are under evaluation, he said.
"The key now is these non-agriculture cooperatives. If the Cubans do this right, it will create a means to move a large number of small and medium-sized state businesses to the private sector," Peters said.
But many of the self-employed are hustling to merely get by. During a recent trip to Cuba, LeoGrande found one street-corner cuentapropista whose business was refilling disposable plastic lighters. He'd drill a hole, fill it up with lighter fluid and then cover the hole. Almost all the private ventures he saw — from bicycle repair shops to pizza stalls were tiny. "I got the sense they are open to taking advantage of any opportunity they see," he said.
When Amuchastegui traveled to Artemisa, a small city west of Havana, in November, he found lots of home building and renovation taking place as well as many small private businesses from cellphone and computer repair shops to carpenters' workshops. "It's become business and making money, business and making money," he said. At the Banco de Crédito y Comercio, said Amuchastegui, lines snaked down the block as people waited to apply for credits, mostly for home improvements.
WEAK AGRICULTURE REFORM
But if self-employment is the most visible of the reforms and among the most popular, agricultural reform may be the least successful.
"For me, agriculture is the key to a successful economic reform, and so far they don't have the results," said Mesa-Lago.
In an effort to boost its agricultural output, Cuba announced a new plan for land tenure in 2009 and then further reformed the process in 2012 to allow larger plots and permit small farmers to build homes and barns on the land. Although the state retains ownership of the land, farmers are allowed to cultivate it under 10-year contracts with the state.
"It is not doing the trick," Mesa-Lago said. Among the problems, he said, is the farmer must be tied to inefficient state farms or cooperatives to get seeds and farm equipment and must market through them. Investments in the land also are restricted by the state.
Other reforms established wholesale markets for farm supplies and eliminated the requirement that 70 percent of the harvest be sold to the state at set prices. But the latter reform applies to only three provinces — Havana, Mayabeque and Artemisa.
"Essentially, they need to provide more incentives for farmers," Feinberg said.
It's possible agricultural production will edge up slightly this year, but it will be below 2005 levels and well below the peak year of 1989, said Mesa-Lago. "Cuba is still importing 70 to 90 percent of the food it needs at a cost of around $2 billion annually," he added. Next year, the government estimates food imports will increase to $2.194 billion.
Since Cuba began allowing its people and permanent residents to freely buy and sell real estate in November 2011, se vende signs have begun to pop up on homes and apartments. Last year, real estate agents, who had long operated illegally, were added to the list of approved self-employment jobs.
Internet sites like Revolico.com and cubisima.com also have sprung up. The cubisima site recently listed a four-bedroom, three-bath colonial home on Miramar's Fifth Avenue that had been partially renovated for $280,000.
"This is a game changer," said Antonio R. Zamora, a Miami lawyer who specializes in foreign investment. For the first time since the early days of the revolution, Cubans have been able to unlock the value of their homes and begin building capital, he said. "It's a big change in the net worth of the Cuban people — and it doesn't really involve the government" other than making payment through a state bank, recording a sale and paying tax on it, Zamora said.
Despite all the activity, Mesa-Lago said, there are still only pockets of a market economy in Cuba. The changes to date, he said, add up to only a "fraction of the total economy." He'd like to see the reforms accelerate and deepen — and he believes Castro, who is 83 years old and plans to retire in February 2018, may have the best chance of pushing them through.
That's because it's unclear whether Miguel Díaz-Canel, first vice president of Cuba's Council of State and Castro's heir apparent, or whoever succeeds Raúl Castro will have the same political clout as he does to carry out reforms that may be unpopular with Communist Party conservatives, Mesa-Lago said. "They are afraid of delegating economic power, and they fear what happened in Eastern Europe," he said. "They want to avoid the classic example of the snowball that gets bigger and bigger and can't be stopped."
SOME PHOTOS OF THE NEW ECONOMY (by Arch Ritter, 2014)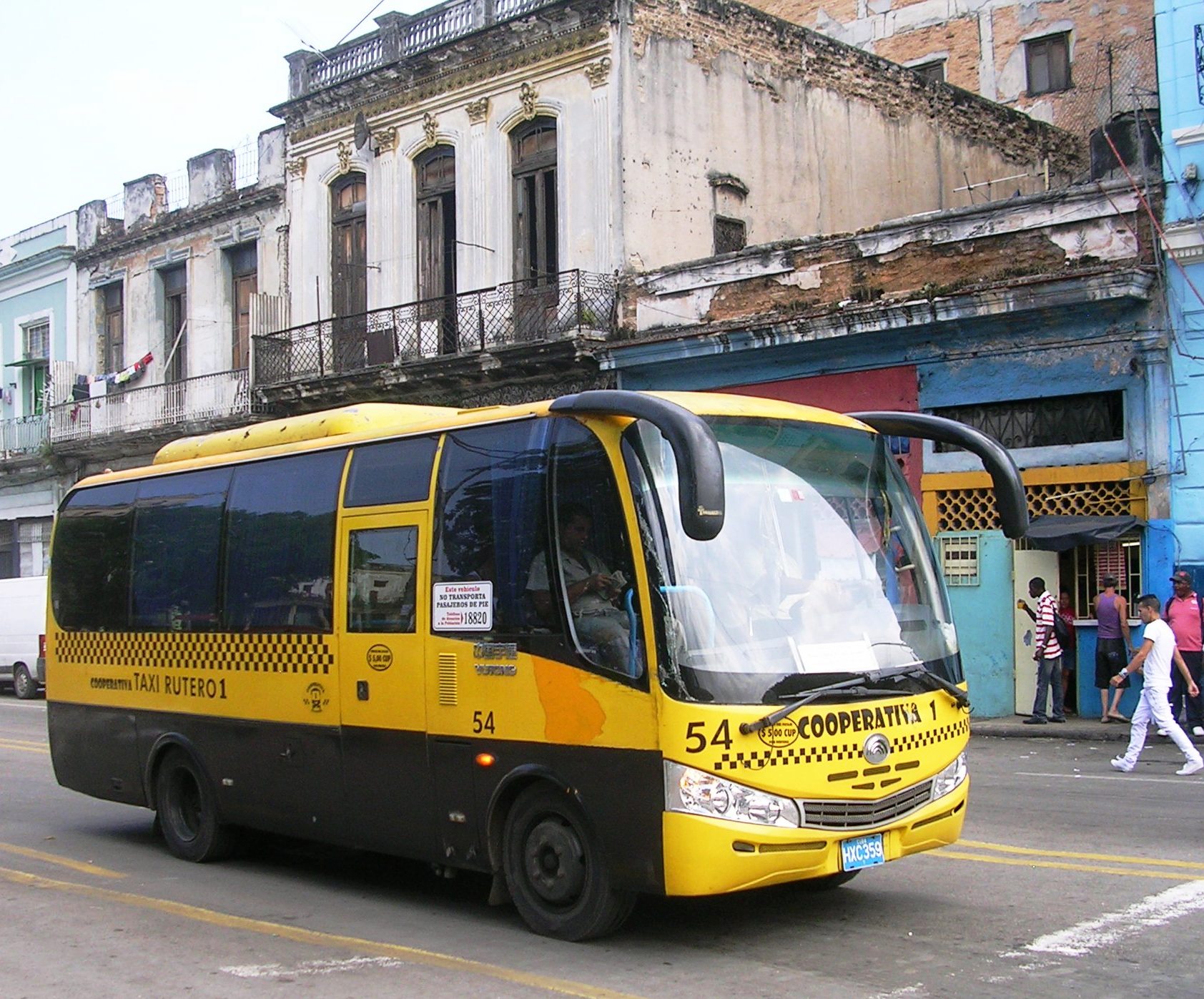 Cooperative Bus, coming up Aguilar St. at Reina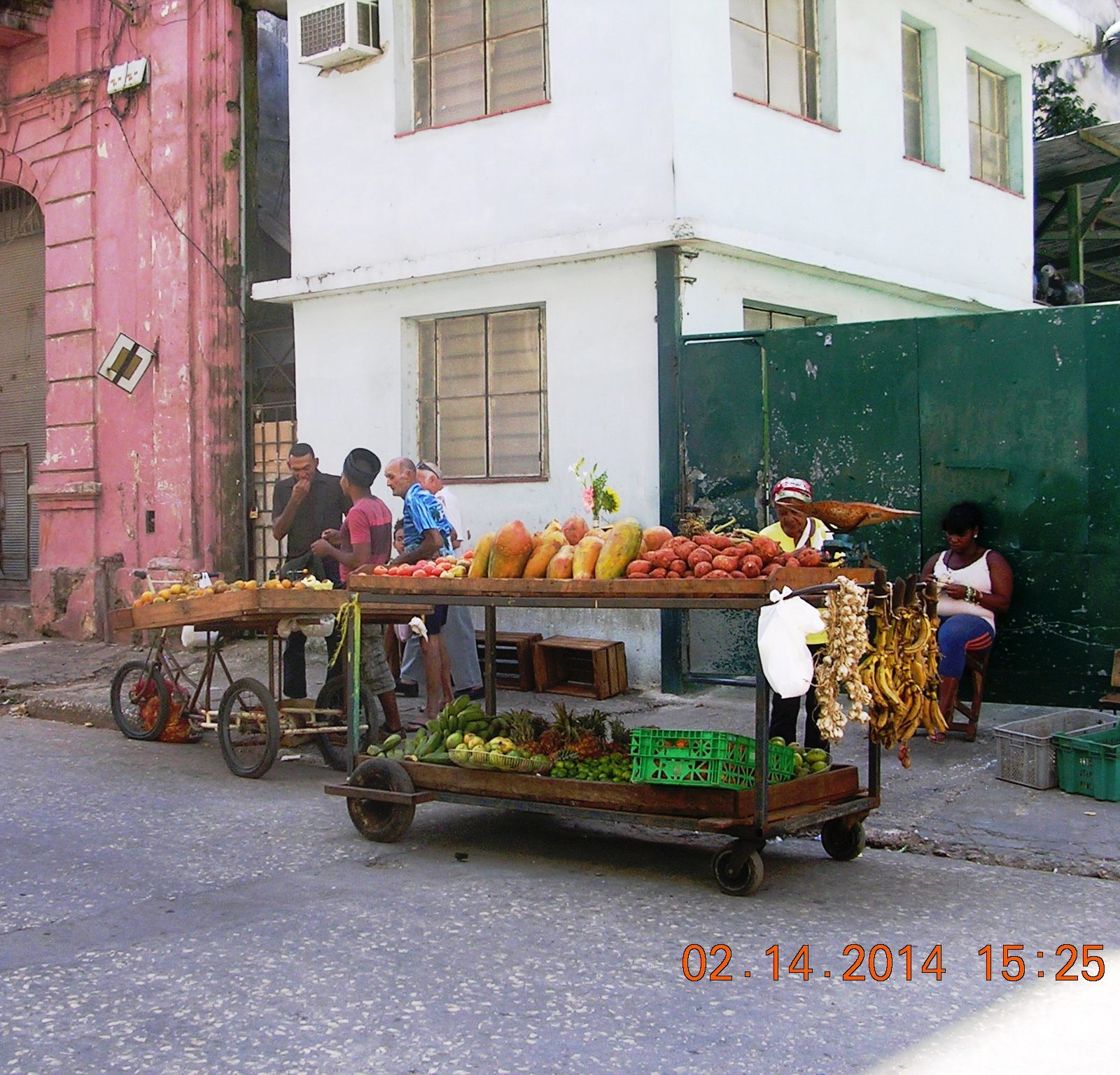 Food Vender in the Street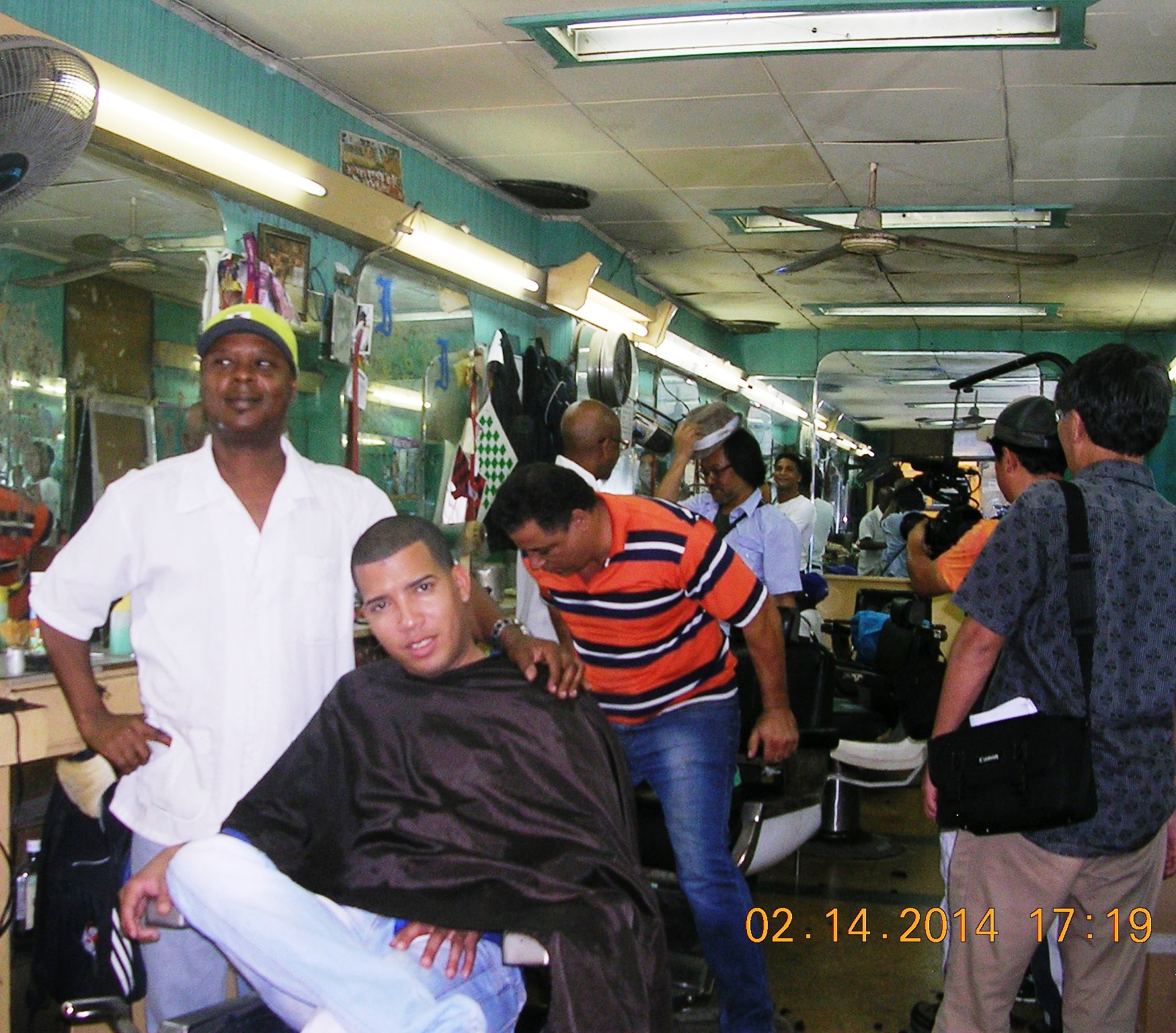 Private Barber Shop on Agramonte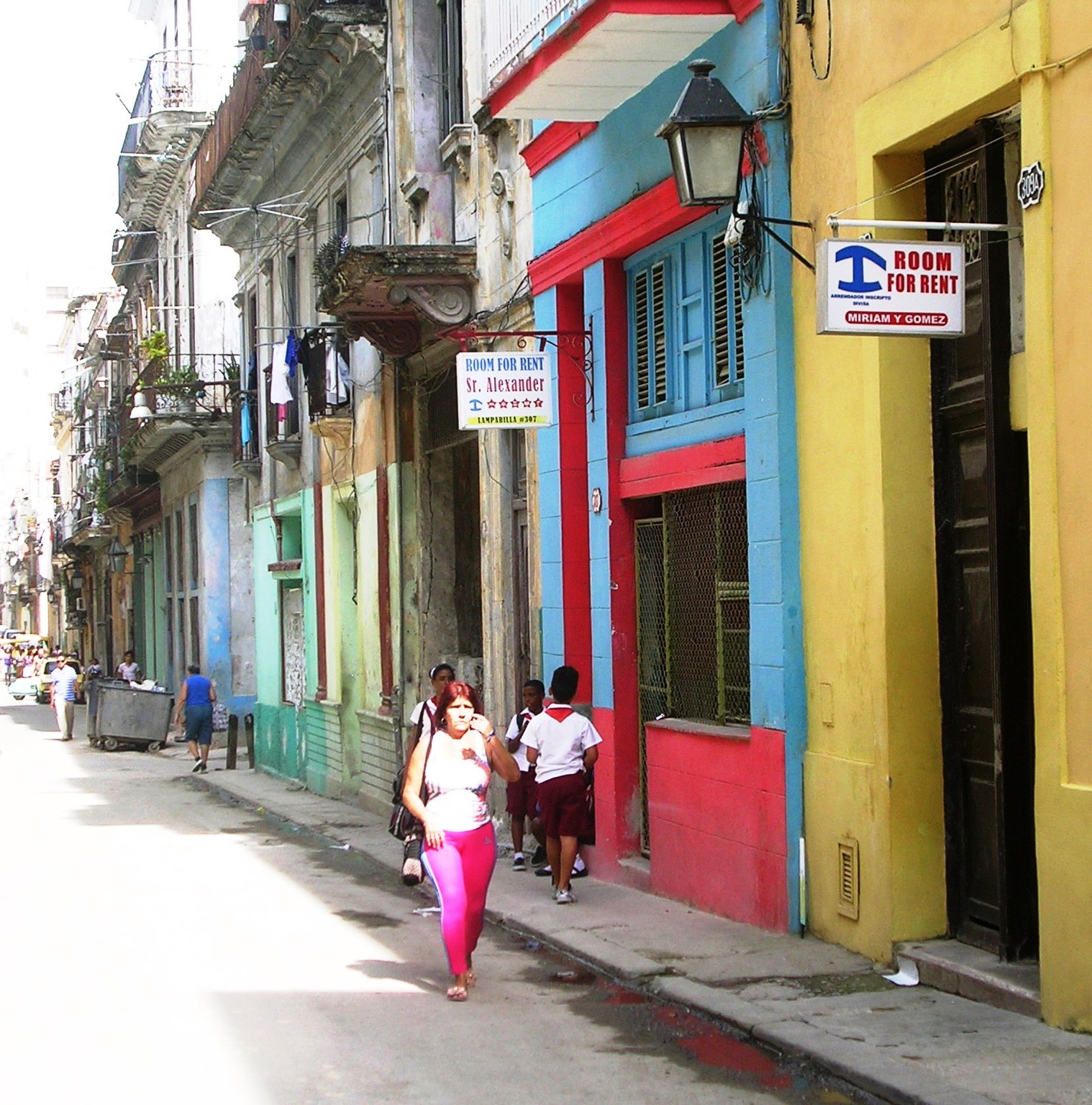 "Casas Particulares" on Neptuno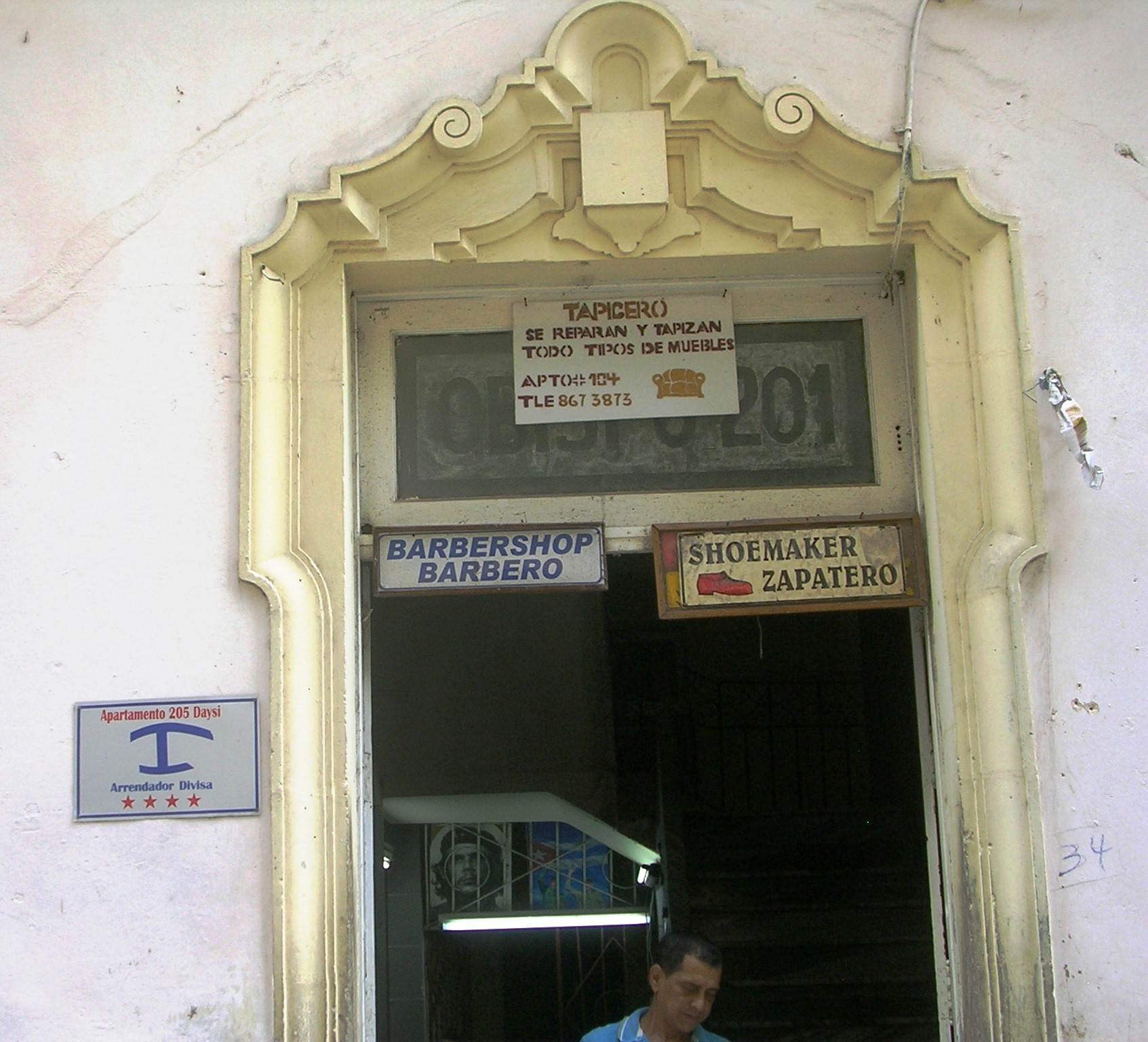 Advertising Private Enterprises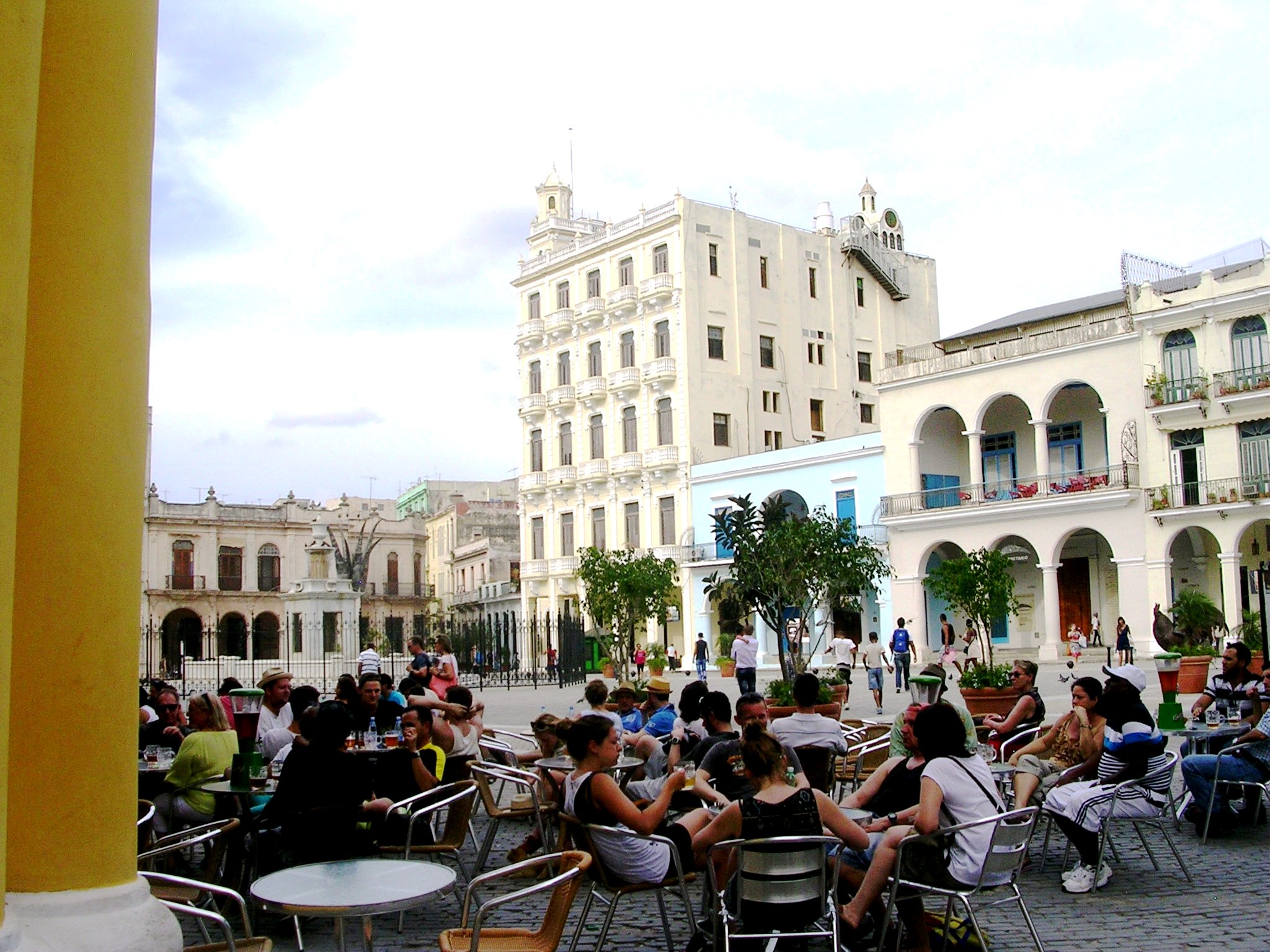 Tourists at the Plaza Vieja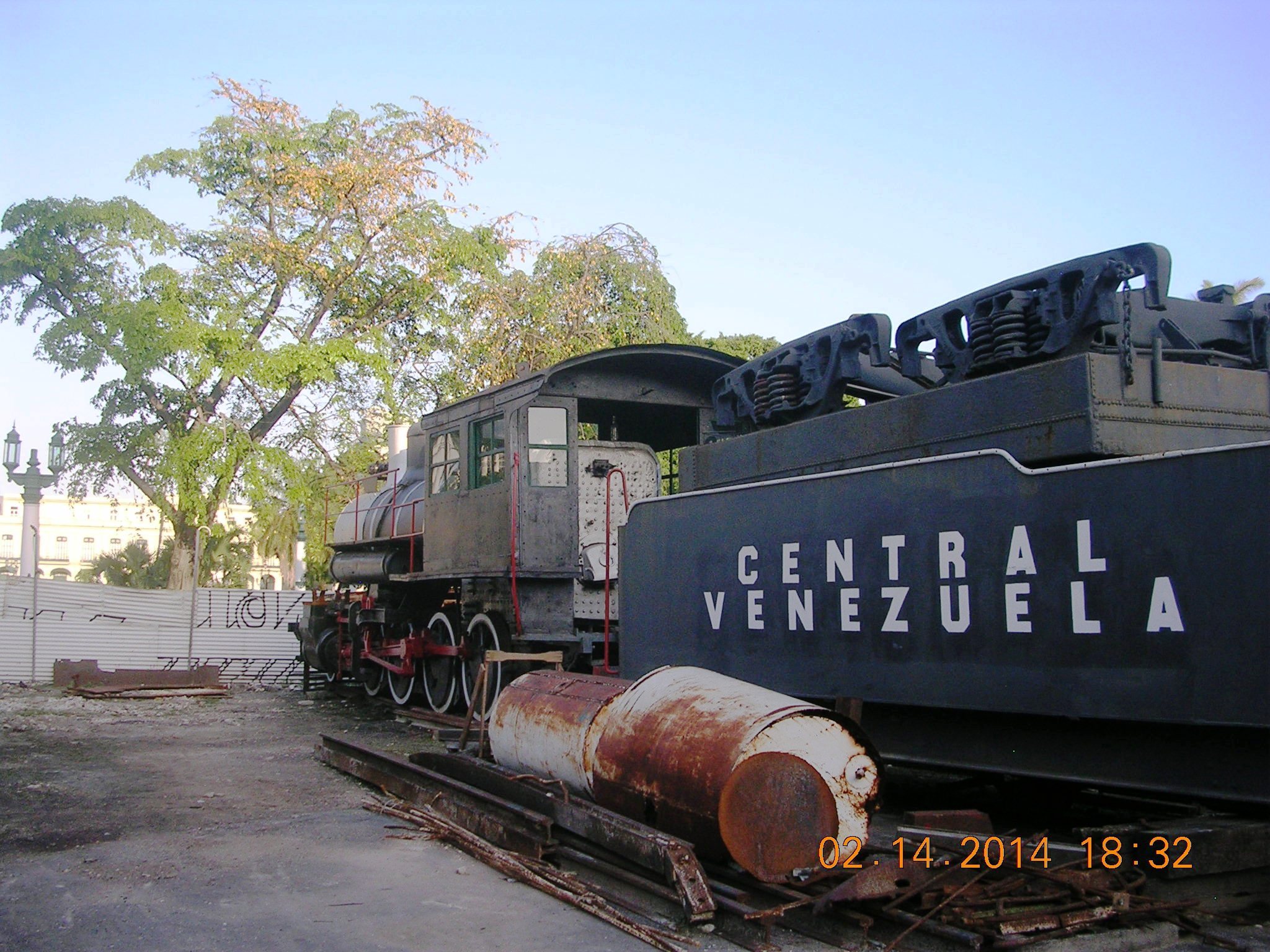 Not the New Economy: Old Sugar Mill Locomotive on Display near the Capitolio