By Marc Frank; Reuters; 1:00 p.m. EDT, August 11, 2014
HAVANA (Reuters) – Cuba has shifted its focus away from offshore oil, concentrating on renewable energy and improving output from onshore wells due to a lack of interest by foreign companies for further deep-water exploration, sources close to the industry say.
With so much oil readily available around the world, oil companies including those from allies China and Russia see little incentive in drilling off the Caribbean island, delaying the Cuban dream of oil wealth that could inject vigor into its socialist revolution.
With the U.S. trade embargo of Cuba further complicating drilling plans, the country is seeking investors in renewable energy such as biomass and wind while attempting to increase output from existing onshore and shallow water wells.
Russia's state-run Rosneft and the China National Petroleum Company (CNPC) separately agreed last month to help Communist-run Cuba extract more oil along the traditional northwest heavy oil belt, but did not sign on to deepwater exploration.
The northwest heavy oil belt is a 200-mile (320-km) stretch of the northern coast from Havana to Villa Clara and reaching up to 3 miles (5 km) offshore. It produces poor quality oil that meets 40 percent of the country's needs.
Rosneft and CNPC will also support the horizontal drilling of new wells from shore and join Canadian firm Sherritt International and another Russian state-run oil company, Zarubezhneft, which are already carrying out similar work. Cuba had hoped Russia and China, whose presidents visited in July, would explore deepwater offshore fields that it says may hold 20 billion barrels of oil and end its dependence on socialist ally Venezuela. Venezuela sends 115,000 barrels of oil per day to Cuba under favorable terms.
"The Cubans have stopped talking about offshore oil exploration in the state-run media and in private appear more interested in new recovery methods for existing wells, biogas projects and windmill farms," a European diplomat said.
Three deep-water wells drilled in 2012 by Spanish, Norwegian, Indian, Malaysian, Russian and Venezuelan firms came up dry. All but the Norwegian state firm Statoil ASA and Venezuelan state oil company PDVSA have pulled out, and those companies are inactive. Future drilling has been postponed for the foreseeable future.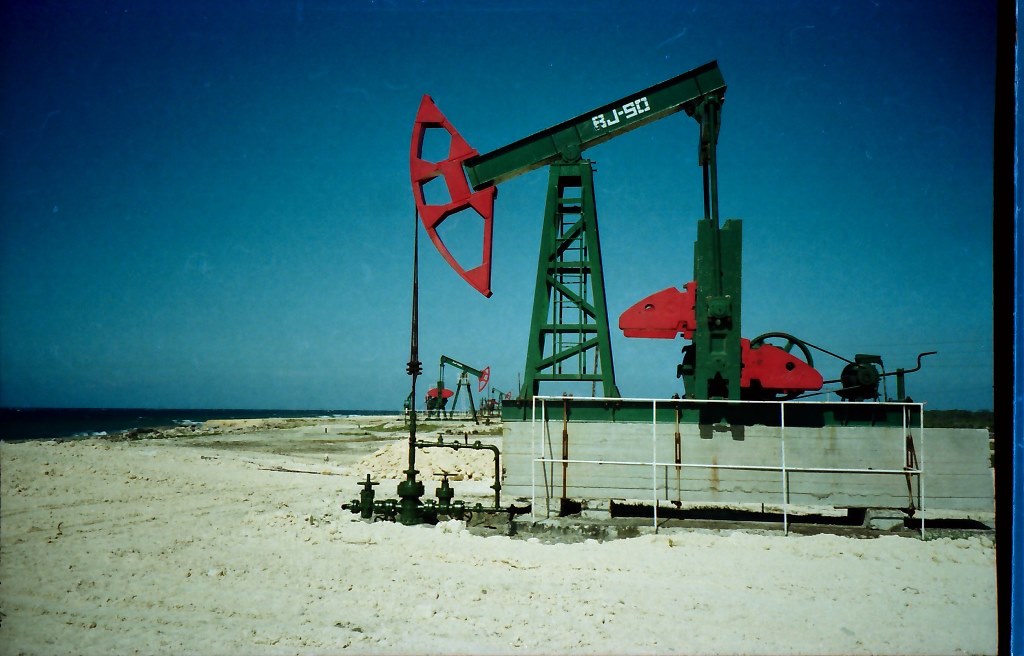 Pumping Petroleum, Near Cardenas, 1994
A BIG GAMBLE
Difficult geology from hard rock encountered while sinking the wells, alternative prospects elsewhere and U.S. sanctions that require oil rigs to carry less than 10 percent U.S. technology are discouraging further drilling, according to Western diplomats.
"Exploration is not a one-shot deal, but in Cuba due to many factors it is. Drilling is like playing once at a roulette wheel with $100 million chips," said a diplomat whose country was involved in exploration.
Jorge Pinon, an expert on Cuban oil at the Center for Energy and Environmental Policy at the University of Texas in Austin, said, "They are shifting their focus and efforts to the known coastal reservoirs rather than on the unknown offshore deep-water reservoirs."
Cuba's heavy crude fields have a recovery factor of about 10 percent (10 barrels for every 100 barrels in a well), due to the viscosity of the crude and the porosity of the rock formations from which it is extracted, Pinon said.
"If successful, Cuba could increase its present recovery factor from 10 percent to maybe 17 to 20 percent adding an additional 12,000 to 15,000 barrels of new production if not more to their current level of approximately 50,000 barrels per day," Pinon said.
Vice President and politburo member Marino Murillo told parliament in July that Cuba planned to invest $3.6 billion over the next 15 years in alternative energy, which is a priority for foreign investment. Murillo said 96 percent of energy generation came from oil and that the goal was to reduce that by 2030 to 76 percent, with the remainder coming from 19 bioelectricity plants attached to sugar mills, 13 wind parks and solar facilities. He did not mention deep-water oil exploration.