Juan Triana Cordoví and Ricardo Torres Pérez Centro de Estudios de la Economía Cubana, Universidad de la Habana
Original CEEC/Brookings Study here: Triana & Torres for Brookings  Politicas crecimiento economico
Este trabajo analiza los factores estructurales que afectan el crecimiento económico, incluyendo la dinámica y calidad de la fuerza de trabajo, la acumulación de capital físico, la acumulación y estructura de factores de producción, y el acceso a mercados internacionales y el mercado doméstico. Luego el trabajo promueve opciones de algunas políticas orientadas a atender los desbalances que se han acumulado a través de los años, con el objeto de colocar a Cuba en un camino hacia el crecimiento alto y sostenible.
Cuba revela profundas paradojas en lo que respecta a su desarrollo. Tiene recursos (aunque escasos) pero carece de una infraestructura macroeconómica o institucional que le permita explotarlos. De igual manera, se enorgullece de poseer trabajadores altamente educados y calificados, sin embargo su modelo económico no genera suficiente empleo, ni en cantidad, ni en calidad, ni en salarios adecuados. Asimismo este modelo económico no ha mostrado la flexibilidad necesaria para adaptarse al ambiente exterior en proceso de cambio.
Estas paradojas se exacerban aún más debido a factores externos e internos. Desde el punto de vista externo, el embargo Estadounidense limita el acceso de Cuba al mercado más cercano y mayor de los Estados Unidos y evita que Cuba participe en instituciones financieras internacionales. Internamente Cuba enfrenta una compleja interacción entre la oferta de trabajo y la demanda de bienes y servicios, especialmente dentro del contexto del mercado internacional. En los próximos quince años Cuba prevé una población en envejecimiento y una taza de dependencia en crecimiento (de 54.7% hoy en día a 66.75% en el 2025) que resultará en una presión en aumento sobre las finanzas públicas. La mayoría del crecimiento en los países en desarrollo en los últimos 50 años se ha llevado a cabo de una manera diametralmente opuesta, impulsado por una población joven y una fuerza laboral en crecimiento. Estos elementos junto con el modelo económico actual hacen inmensamente difícil que Cuba se encamine hacia un crecimiento sostenible a largo plazo.
En el 2011 el gobierno Cubano, bajo el Presidente Raúl Castro, presentó unas nuevas pautas económicas para "modernizar el socialismo cubano". En la práctica esto permitió algunas actividades económicas restringidas (compra y venta de hogares y automóviles, creación de cooperativas no agrícolas, etc.). Sin embargo, más allá de estos casos limitados, es incierta la implementación de cambios al modelo económico de Cuba que estimulen el crecimiento y desarrollo. Como resultado, la atención se ha volcado en la necesidad de una infraestructura más moderna (especialmente las telecomunicaciones), la necesidad de una inversión extranjera directa y de formación capital fija, y las políticas de producción que complementan las nuevas pautas económicas y apoyan los altos niveles de crecimiento y desarrollo que Cuba necesita.
Este ensayo fue preparado para ser presentado en una serie de talleres de expertos sobre el cambio económico Cubano visto desde una perspectiva comparativa, organizado por la Iniciativa Latinoamérica en el programa de Políticas del Exterior de la Institución Brookings, y el Centro de Estudios de la Economía Cubana y el Centro de Investigaciones de la Economía Internacional en la Universidad de la Habana. Fue presentado inicialmente en un seminario de expertos en Washington D.C. el 28 de mayo del 2013 y fue revisado posteriormente. Los ensayos preparados por esta serie serán recopilados y publicados por Brookings en el 2014.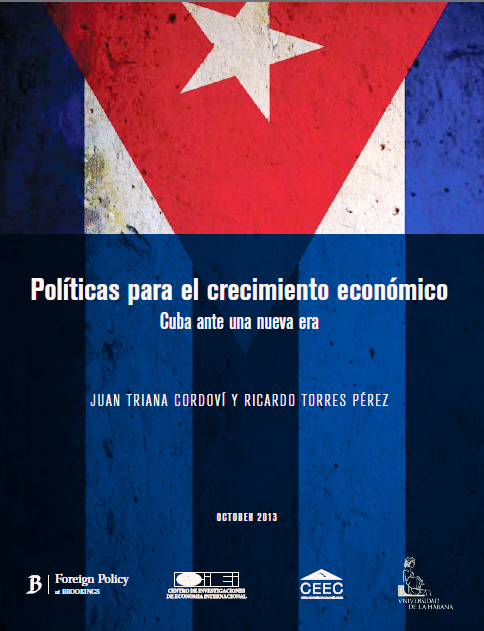 With the 2011 economic reforms enacted under Raúl Castro having tangible impacts (the expansion of self-employed cuentapropistas, the legalization of the sale of homes and automobiles, the recent announcement of the elimination of the dual currency, etc.), Cuba faces important choices regarding the updating of its economic model. These authors present their ideas for Cuba's economic reforms as part of a series of expert workshops on Cuban economic change in comparative perspective organized by the Foreign Policy Latin America Initiative at the Brookings Institution and the University of Havana's Center for the Study of the Cuban Economy and the Center for the Study of the International Economy. Additional papers will cover monetary and fiscal policy, and institutional changes.