Original Article here: Cuba sugar cane marabu weeds 'could be turned to fuel'
By Sarah Rainsford BBC News, Ciro Redondo, Cuba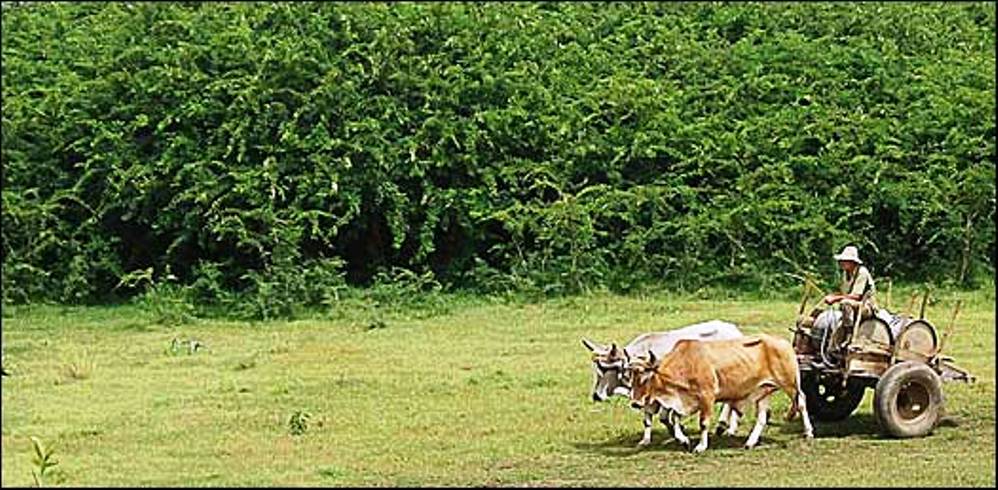 Driving the Cart past a "Marabu Woods
Drive anywhere in the Cuban countryside and you will spot the marabu lining the road: a dense, woody weed that grows as tall as trees and has invaded vast swathes of agricultural land. The land-grab began in the 1990s when Cuba was in economic crisis following the collapse of its great benefactor, the Soviet Union. The mighty sugar industry slumped too, and cane fields were overrun by marabu.
But to one British firm, the aggressive weed is less a problem than a valuable resource.
Havana Energy has just signed a $50m (£31m) investment deal to build a renewable-energy power plant in central Cuba, supplying one of the country's biggest sugar mills as well as the national grid. During the harvest it will be fuelled by sugar-cane residue, known as bagasse. The rest of the year it will be fed with marabu. "Marabu has a very high calorific level and low moisture, so as biomass it's very attractive,"
Harvesting marabu will also address a pressing issue on the island. "Seventy per cent of the food Cubans consume is imported, which is a national tragedy with their climate and soil," says technical director Keith Dawson. "Every Cuban hates marabu so we're doing a service: not just removing it but also returning the land to farming."
The deal is a joint-venture with Cuba's state sugar monopoly and is part of a move by the Communist government to diversify its energy supply away from dependence on subsidised, imported oil from its socialist ally, Venezuela.
"Cuba relies on diesel-powered power stations, which are even less green than coal, very expensive and give-off horrible emissions," Mr Macdonald explains, saying his firm's green energy will also be cheaper.
Now the papers have finally been signed, the British team face their first major test. Early next year they will import a combination of forestry and construction equipment that they hope can harvest the marabu economically. No-one has managed that yet. "You can't underestimate marabu. We've brought foresters to look at it and they've been confused, and agricultural kit is not strong enough," says agricultural adviser Julian Bell.
'Terrible state'
The plant's woody roots vary in size and are as dense as teak with fierce thorns.
"Usually you just wouldn't bother. But I don't know anywhere else with 1.5 million hectares covered in such a good energy source," he says.
There is another incentive. Research at Strathclyde University has revealed that marabu produces high-grade activated carbon for use in filters – like in Cuban rum production. Potentially, the carbon could also be used in new-generation fast-charging batteries. So Havana Energy will bring a reactor to the Ciro Redondo mill next year to trial carbon manufacturing.
In the small town that grew up around the sugar mill, there is a good deal of expectation about the investment. The joint venture should create around 60 new jobs and includes funds to upgrade the dilapidated mill itself, now a century old. Only one of its three crushing machines are operational, it still has Soviet-era signs and ageing east German equipment, and large sections of the roof are missing. "It's in a terrible state," says retired sugar-worker Oberto Vazquez as he passes on his bicycle. "When it rains, it rains more inside than out."
So for Cuba this venture is not only about sourcing alternative energy.
The government is in the midst of a drive to boost sugar production, cashing in on higher global prices and increased demand from countries like China. It has reopened almost a dozen old mills, targeting 20% production growth per year.
Tackling weeds
It has allowed foreign funds into the sector for the first time since the 1959 revolution. As well as the British venture, a Brazilian firm has been contracted to manage another large mill in a nearby province.
"The main [British] investment is to build the power plant, but we have negotiated access to credit to improve the cane fields and the sugar mill itself," says Rafael Rivacoba, director of international relations at Azcuba, Cuba's sugar firm. "I think that's positive." He describes further foreign investment in the sector as a possibility, but is cautious. The deal with Havana Energy took three years to negotiate. "We're thinking about other things," he says, admitting that international sugar brokers are knocking at his door. "But nothing's been decided."
On the ground in Ciro Redondo though, funding from anywhere is welcome.  The mill can only afford to irrigate 12% of its crops today; average yields in the cane fields are under half the international norm. "We have the will and the knowledge," says manager Victor Dieguez. "But we need investment."
That is now on its way and if this pilot project succeeds, the British team has an option to build four more power plants at other sugar mills. First though, it has to tackle the marabu: to prove that it does have the solution, to turn a weed into a valuable asset.
La Lucha Contra Marabu