By Marc Frank in Havana; Financial Times; September 25, 2012
Original Article here:  US-Cuba Relations Make Little Progress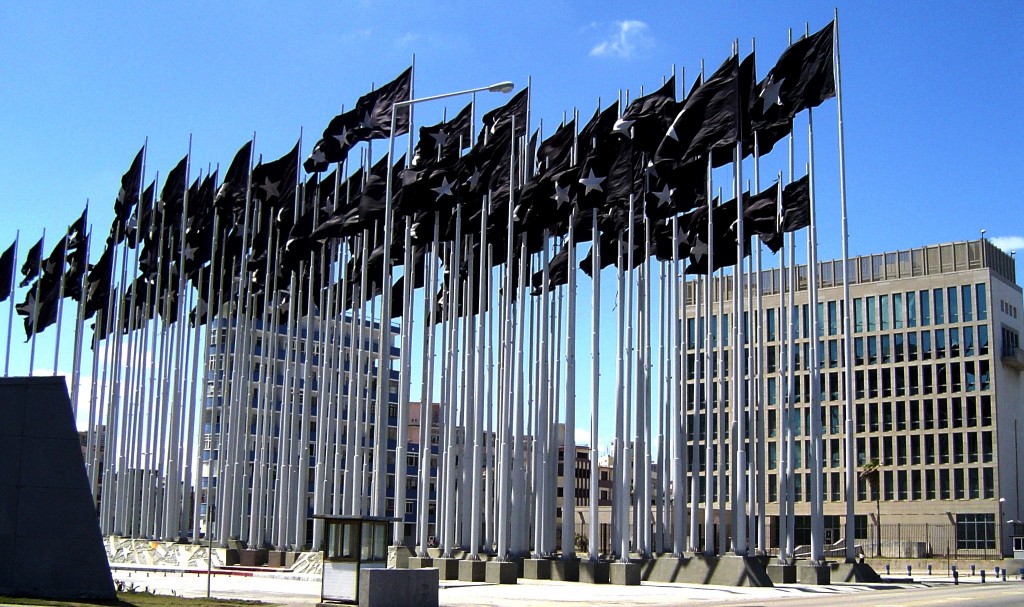 US Interest Section, Havana, with black flags blocking view   of billboard messages emitted at the top of the building
When Barack Obama won the US presidency in 2008, many believed he would make significant progress in Cuban relations, so resolving one of the last conflicts of the cold war.
But four years later, US-Cuba relations remain stuck in much the same time warp, and whether Mr Obama or his Republican challenger Mitt Romney becomes the next US president, few expect a significant breakthrough – although the region's changing ideological landscape could prompt the beginnings of a shift.
Mr Obama lifted all restrictions on Cuban American visits soon after taking office, and in December 2010 reversed a Bush Administration ban that led to a surge in so-called people-to-people visits, which are for educational purposes rather than tourism. But he has also stepped up financial sanctions under anti-terrorism laws, and this year issued tough new travel guidelines.
"The US position on Cuba continues to undercut our strategic position in the region and a breakthrough would greatly enhance Obama's foreign policy legacy through solving a problem far simpler than many other global issues," said Julia Sweig, a senior fellow on Latin America at the Washington-based Council on Foreign Relations.
"There is no question that Obama's first term disappointed many when it comes to Cuba, but I think it premature to assume this status quo under a second term," she added.
Mr Romney, if he wins, is, meanwhile, expected to tighten travel and adopt a more aggressive public stance towards Havana, encouraged by powerful Cuban-American legislators in the key electoral state of Florida.
The two countries' latest, seemingly intractable, conflict is over the fates of jailed US contractor Alan Gross and five Cuban intelligence agents. Mr Gross was arrested in 2009 for participating in a US project to set up an internet platform covertly in Cuba. He is currently serving a 15-year sentence.
The Cuban agents were imprisoned in the US 14 years ago for infiltrating exile organisations and military installations in Florida. Following Mr Gross' arrest, immigration and mail service talks restarted under Mr Obama were again suspended, and US diplomats say there will be no progress until Mr Gross is released.
Another factor limiting improved US-Cuban relations is the conservative tide that washed over Washington after the 2010 Congressional elections and that brought Florida Republican senator Marco Rubio to office and saw another hard-line Cuban American, congresswoman Ileana Ros-Lehtinen, appointed head of the House Foreign Relations Committee. Both lawmakers oppose contact with Cuba and are particularly incensed by people-to-people exchanges.
"This is nothing more than tourism . . . a source of millions of dollars in the hands of the Castro government that they use to oppress the Cuban people," Mr Rubio charged during congressional hearings last year.
As many as 400,000 Americans visited Cuba in 2011, with as many as 70,000 of them not of Cuban heritage. They may have boosted the government, but were also important clients for the hundreds of small businesses that have opened in Cuba – part of Havana's broad, if hesitant, market-oriented reforms.
Mr Rubio, according to his office, then blocked the administration's nominee for undersecretary of state for Latin American affairs, Roberta Jacobson, until it agreed in March to roll back the travel programme. Tougher new regulations quickly followed.
"Under the new guidelines, applications often run to more than 100 pages, compared with just a few when the people-to-people programme began, and they are usually sent back for not meeting vague criteria," said Bob Guild, vice-president of Marazul Charters, the oldest US company taking people to Cuba.
Although pro-embargo forces are expected to remain a strong influence in Congress even if Mr Obama wins, some advocates of a new Cuba policy hope he will use executive privilege to get round them.
One factor that could change the state of play is if Cuba is taken off the list of state sponsors of terrorism – as the US State Department did with North Korea in 2008 and Libya in 2006 – for helping broker peace talks between the Colombian government and the country's Marxist Farc rebels. If the Farc lay down their weapons that could help lead to Mr Gross' release, opening the way for further advances.