The Canadian Press, 9 September 2012
OTTAWA — The Conservative minister for Latin America is softening some of the Harper government's previous tough talk on Cuba.
This week, Diane Ablonczy, the junior foreign minister for the Americas, visits the communist Caribbean island — which, at 135 kilometres from the southern tip of Florida, is both the closest sworn enemy of the United States and the favoured vacation choice of a million sun-seeking Canadians each year.
Ablonczy praises the ongoing economic reforms that Cuban President Raul Castro has instituted — opening up private property ownership, new opportunity to hold select private sector jobs, the right to sell a used car — since he took over the country from his legendary and ailing brother, Fidel, almost four years ago. "We see a very significant process of economic reform and liberalization in Cuba," Ablonczy told The Canadian Press in a pre-trip interview.
Ablonczy does not necessarily believe this will lead to greater democratic freedoms any time soon in a country where the government exerts Soviet-era control over its 11 million citizens. "Political change is not what Cuban leadership has in mind," she said. "There's a lot of debate around these things and there's a lot of caution too. But Canada, as an investor in Cuba, with lots of people-to-people contact, wants to play as positive and constructive role as possible."
Ablonczy said Canada stands ready to share experiences and best practices "as Cuba moves forward, very gradually, towards some needed changes and modernization."
Her comments are a marked departure from the language employed by one of her predecessors in the portfolio, Peter Kent, who publicly chided the Castro regime on its human rights record almost three years ago. His comments prompted Havana to rescind an invitation to visit in the spring of 2009. Kent eventually travelled to Cuba in late 2009, and he reported a successful visit that included discussions on trade and human rights.
Cuba is Canada's largest market in the Caribbean and Central American region, with two-way trade topping $1 billion in 2010. A Canadian oil and gas company, Sherritt International, is the largest foreign investor in Cuba.
Ablonczy, who has travelled widely in the region since her appointment last May, said she wants to form meaningful working relationships with her Cuban counterparts. She said it's important to be very respectful of her hosts and "what they want to achieve and their own goals and objectives."
A leading voice in Canada's non-governmental agency community agreed there is opportunity for the government to have a meaningful impact on reform in Cuba. Robert Fox, head of Oxfam Canada, recently concluded his own working tour of projects in Cuba and said there is good progress being made in municipal governance and in opening up the farming sector to more local participation. That might not sound like much, but both are significant developments in Cuba, where the Castro regime allows no political dissent and virtually no capitalism.
Municipal councils are meeting and coming up with ideas on how they want to live in their communities, within the constraints of the central government's edicts, said Fox. "In a country like Cuba, a decentralizing dynamic is also a democratizing dynamic."
Meanwhile, Cuban farmers are working on ways to grow and sell local products locally — a significant step in a country that, despite massive swaths of fertile countryside, still imports most of its food. "Canada continues to be seen in a positive way in Cuba. Canada has never conditioned its aid to Cuba. Cubans are very aware that there are a million Canadians who come to their country every year," said Fox.
"When we look to the changes in Cuba in terms of opening up to local markets and opening up to global markets, when we look to women's leadership and gender equality, when we look to municipal governments and local authorities, when we look to the co-op movement — which are all areas that Cubans are taking to a new level — those are all areas where Canada has huge strengths, huge capacity."
Canadian embassy diplomats in Havana expressed interest to Fox about strengthening municipal authorities and the agricultural sector. Ablonczy said Canada does have expertise to offer in those areas but she said she would wait to see what topics her Cuban hosts raise with her. Canada, she said, does not have all the answers and won't "take a lecturing approach."
Ablonczy is expected to have meetings with Cuba's ministers for foreign affairs, trade and tourism, as well as paying visits to Canadian-funded aid projects. She will also visit Panama and Guatemala in the coming week as well.
Overall, Ablonczy is a staunch defender of her government's efforts to open up economic opportunities throughout the region, even if it means trading and doing business with governments that have less-than-stellar rights records.
She said engagement can contribute to "important human rights advancement in these countries, providing the economic opportunity that is often key for people breaking free from tyranny and oppression… "We've taken a very strong stand on wanting to be an active and positive force while being very clear about our concerns and our desire to see human rights continually addressed and advanced in all countries, including our own."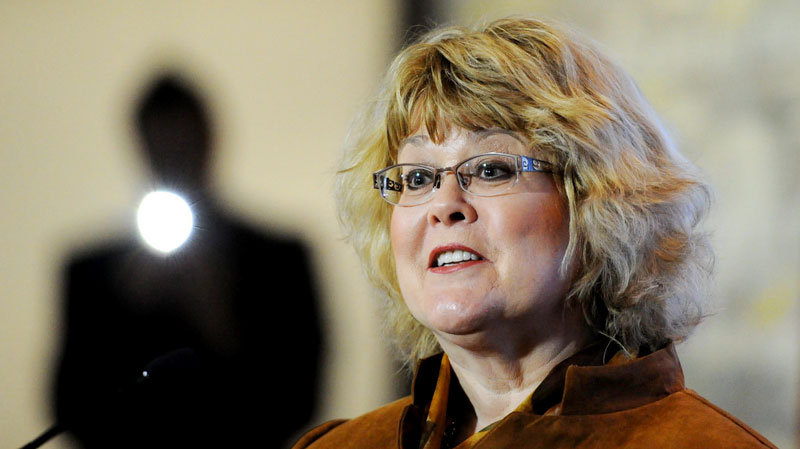 Minister of State of Foreign Affairs Diane Ablonczy