By Arch Ritter
Cubans and friends of Cuba will lament the recent death of G.B. Hagelberg, a long time and highly respected analyst of Cuban agriculture, most notably the sugar sector. Hagelberg had a deep and long term knowledge of the sugar agro-industrial complex in the Caribbean generally including Cuba, having served as the resident sugar adviser of the government of Barbados from 1960 to 1968 and from 1980 to 1986. He was the author of numerous publications, including a book-length study entitled  The Caribbean Sugar Industries: Constraints and Opportunities (1974). More recently his work focused more on Cuban agriculture and he authored a variety of works in this area. His last analysis. referred to here, was originally entitled "Cuban Agriculture: Limping Reforms, Lame Results". but was re-labelled "Agriculture: Policy and Performance". It was presented at the  Association for the Study of the Cuban Economy (ASCE) Conference in August 2011.
Some central conclusions of this last work are presented below and the complete essay can be found here, courtesy of ASCE and especially Joaquin Pujol. It will be generally available on ASCE's Website for the 2011 Conference soon.
The complete text can be found at this hyper-link:
Hagelberg ASCE 2011, AGRICULTURAL POLICY AND PERFORMANCE
Hagelberg's Concluding Comments:
Analysts can thank Raúl Castro for a semblance of glasnost. Ironically, it reveals the limits of his perestroika. That enterprise is running the danger of unraveling under the weight of its internal contradictions. If this is not to happen, the realization has to gain ground that "concentration of ownership" (Article 3) is as undesirable in the public as in the private sector of the economy and that competition is the mother of efficiency. Non-functional state monopolies and monopsonies have to be dismantled. Also to be unpicked is the conflation of centralization and planning, a fantasy nowhere more counterproductive than in agriculture. To succeed, farm and agroindustrial policies must be informed by a thorough understanding of the conditions that make these sectors different from other economic activities. Regulation is obviously necessary in such areas as environmental protection, food safety and the prevention of market abuse. But to thrive, Cuba's agriculture and agroindustry require the government to shift decisively from a controlling to an enabling mode, attending to rural infrastructure investment, research and extension, the reduction of risk from natural causes, financing, and the provision of timely and reliable information.
*********************
In a speech to the National Assembly in July 2008, Raúl Castro returned to his oft-quoted 1994 statement that "beans are more important than cannons." Over 2007-10, the four calendar years in which he has led the government, bean production averaged 96,400 metric tons annually, against an average of 109,175 tons in the previous four years (ONE, 2011a, Table 1.6). Men who have spent a lifetime running the armed forces may believe that making farm policy is not rocket science. It is surely at least that. After all, a centrally managed economy was first to send a man into space; across the world, the track record of centrally managed economies in agriculture has been less glorious. The measures introduced to boost the home-grown food supply and reduce the need for imports have still to pass the beans test, and Cuba's agricultural malaise rumbles on.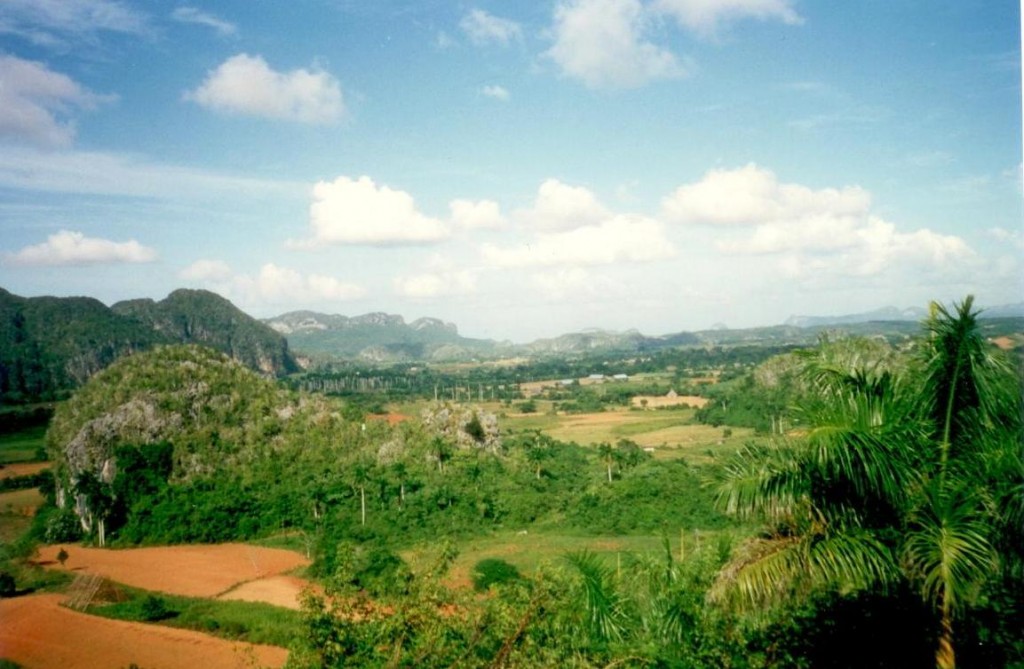 Agricultural Scene, Vinales, 1997