By Arch Ritter 1. Canadian Tourism in Cuba Canada continues to be the largest national source of tourists in Cuba, a position that it has had consistently since 1990. Canadian tourists numbered 555,872 out of a total of 1,179.963 from January to April 30, 2011, according to Cuba's Oficina Nacional de Estadisticas. This is almost 10 times more than the second source country, Britain. Excluded from the ONE Chart are visitors from the United States who have been increasing rapidly and at this time must be a not-too-distant second to Canada Total Canadian tourism to Cuba will likely approach 1 million for all of 2011. It seems almost rare to encounter a Canadian who has not visited Cuba. While many visit only once, many others are repeat visitors, and obviously like their visits to Cuba. Tourism is of course a major source of foreign exchange earnings for Cuba, larger than any single merchandise export but also smaller than other service exports (mainly medical services.)  Foreign exchange earnings from Canadian tourism were likely in the area of US$ 882 million for 2008, (calculated as 37.6% of total tourism earnings of U.S. $ 2,347.  million.) If one takes both Canadian tourism plus Canadian merchandise imports (mainly nickel) from Cuba into consideration, Canada contributed about U.S. $1.6 billion in 2008, a substantial proportion of Cuba's foreign exchange availability. One partial consequence of the steadily increasing contacts between the citizens of Cuba and Canada is the expansion in Cuban immigration to Canada. This has increased slowly but steadily reaching 1,421 individuals in 2009, up from 845 in 2000. (Citizenship and Immigration Canada www.cic.gc.ca;  http://www.cic.gc.ca/english/resources/statistics/facts2009/permanent/10.asp) Chart 1.          Principal Sources of Tourists, January to April 2011
Source: ONE, Turismo. Llegada de Visitantes Internacionales Enero – Abril 2011 2. Canadian Foreign Investment in Cuba. The first trimester of 2011 has been good for Sherritt International, the largest Canadian investment in Cuba by far, as well as for the nickel sector in Cuba. As a result mainly of a 27.5% increase in nickel prices, metals' earnings from operations were  $57.4 million for January to March 31, 2011 and were $18.6 million higher than in the same period in 2010. Higher operations costs had a small negative impact on metals earnings, however. (Sherritt International Corporation, 2011 FIRST QUARTER REPORT, for the January to March 31, 2011, p.21) Another major Canadian investor in Cuba is Leisure Canada – headed by the legendary Canadian mining financier Walter Berukoff.  This firm is planning the construction of at least three major hotels, namely Monte Barreto in Miramar Havana, Jibacoa between Havana abnd Varadero (with a small "boutique beach") and Cayo Largo as well as a golf course and a marina.  Perseverance has won out for Leisure Canada which succeeded in obtaining the rights – a 99 year lease presumably – to a 34,000 square meter-oceanfront property in the Miramar section of Havana.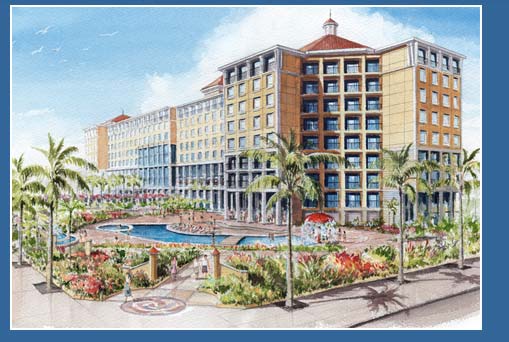 The Monte Barreto Project
Here is some description of the projects from Leisure Canada's publicity:
"The Monte Barreto site is located on the last significant piece of oceanfront property in Havana's Miramar business and trade district. The property is 34,500 square metres and sits across from the new Miramar Trade Center, and adjacent to Havana's National Aquarium. The proposed 716-room hotel project will have a significant retail and convention/entertainment component. With a planned 737-room hotel accompanying significant convention and retail space, Monte Barreto will stand as Cuba's foremost luxury hotel catering to the world's most sophisticated traveler. " http://www.leisurecanada.com/monte_barreto.htm
"Jibacoa – Leisure Canada's site spans 5.5 square kilometers of oceanfront property, which is located 65 kilometers east of Havana. The site is being developed as the first high-end destination resort in Cuba, and it will host six luxury hotels, two PGA championship golf courses, and timeshare villas."
Cayo Largo – This small limestone quay, located 50 kilometers south of the main island of Cuba, possesses the most spectacular white sand beaches in all of the Caribbean. Cayo Largo is also rated as one of the world's best diving sites. Leisure Canada's project will involve the construction of 900 rooms, and a central pedestrian village that will offer retail and amenity experiences currently not offered on the island.
Another Canadian enterprise Standing Feather International spear-headed by Vincent McComber from the Kahnawake Mohawk reserve outside Montreal, is planning a 36-hole golf course, a beachfront hotel, spas, shopping centres – and, in a first for the island, villas owned privately by foreigners. This will be in a joint venture arrangement. If the foreign ownership of villas is accepted, it will constitute a major change for Cuba.   3. Cuba-Canada Trade Canadian trade with Cuba has begun to recover from the sharp contraction of 2008-2009 that reflected the impacts of the world recession on commodity prices, notably nickel, and on Cuba's reduced foreign exchange earnings and lower capacity to purchase imports. Cuba's exports to Canada continue to far exceed Canada's exports to Cuba largely because of the importation into Canada of nickel concentrate from the Sherritt operation for refining in Fort Saskatchewan Alberta.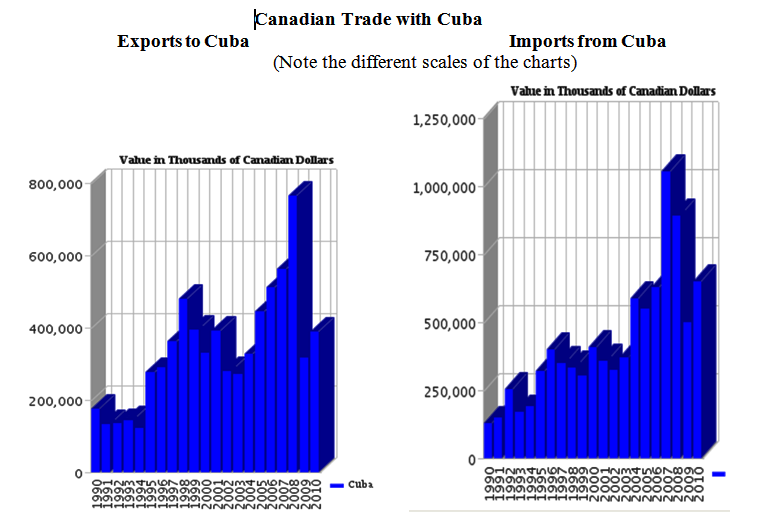 Perhaps Raul Likes Golf