Revista TEMAS, Cultura, Ideologia Sociedad, La Habana,
número 62-63 abril-septiembre de 2010
After some three or four years trying to win approval within Cuba, a joint US-Cuba project on the relations between the two countries has finally come to fruition.
Rafael Hernandez, Editor of Revista TEMAS in Havana and Jorge Dominguez, Professor of Mexican and Latin American Politics and Economics, and Vice Chancellor for International Relations at Harvard University have succeeded in bringing together a multinational team of authors and in producing a study already published in Revista TEMAS in Cuba.
An English-language version is in process of publication in the United States with the title Debating U.S.-Cuban Relations: Shall We Play Ball? This is Jorge Dominguez second successful collaboration with Cuban authors in recent years, the first being The Cuban Economy at the Start of the Twenty-First Century, edited with Omar Everleny Perez Villanueva of the Centro de Estudios sobre la Economia Cubana, Universidad de La Habana, and Lorena Barberia also of Harvard.
An essay of mine is included in the collection, namely Estados Unidos-Cuba: potenciales implicaciones económicas de la normalización,
I must confess that I was surprised – but pleasantly surprised – that my essay was included in the collection. My expectation was that the essay would be rejected for ideological reasons.This article contains criticism of current economic policy and institutional structures. though couched in terms of an argument that the gains to Cuba from normalization with the United States would be significantly greater if a series of economic reforms were adopted. The reforms considered include
legalization of small, medium and cooperative enterprises,
relaxation of taxation and restrictions on self-employment,
modification of foreign investment policy to permit majority foreign ownership,
relaxation of controls on financial flows from abroad, and of course
monetary and exchange rate unification, among other things.
The absence of labor rights – the right to form independent labor unions, to bargain collectively, and to strike – is also discussed as a possible impediment to direct foreign investment in view of the opposition that US groups will have to US firms investing in Cuba under current conditions of the absence of labor rights.
The vetting process that the article underwent was rigorous but surprisingly un-ideological. A long series of critiques were made of the draft that arrived in Havana by the editorial advisors of TEMAS. Some of the criticisms were useful, some were ideologically oriented and a few were neither ideological nor useful. However, following Jorge Dominguez advice, I answered all the queries and criticisms as carefully as I could. Some I accepted. I changed some wording to be less inflammatory. Some criticisms I rejected as diplomatically as I could. In the end, my revisions were accepted by the TEMAS Editor, Rafael Hernandez.
One interesting change that the editors proposed and that I accepted was to remove the name of president Fidel Castro who I had referred to in mentioning the ambiguity of Cuba's policies towards direct foreign investment, promoting it on the one hand but pronouncing against "globalization" – of which DFI is a part – with President Castro taking lead roles at the podium of the "Anti-Globalization" conferences that occurred for a number of years. The editor wanted Castro's name removed from that discussion, but did not object to the discussion itself. This seemed to be a version of the hesitancy of many Cuban citizens to  mention Fidel's name, but to use the hand motion of stroking a beard instead.
I will have to modify my criticisms of freedom of expression within Cuba – though only somewhat!
Below is the Title, Table of Contents, and Web address for the issue. The essay titles are hyper-linked to the TEMAS Web site though the connection often seems very slow.
Cuba-Estados Unidos: tan lejos, tan cerca
Reconfiguración de las relaciones de los Estates Unidos y Cuba, Jorge I. Domínguez, Profesor. Universidad de Harvard.
Enemigos intimacy. Paradojas en el conflicto Estados, Unidos-Cuba, Rafael Hernández, Politólogo. Revista Temas.
Cuba y los Estados Unidos en  las esferas de la defensa y la seguridad, Hal Klepak, Profesor. Royal Military College of Canada.
La seguridad nacional de Cuba frente a los Estados Unidos: conflicto y ¿cooperación?, Carlos Alzugaray Tret, Profesor. Centro de Estudios Hemisféricos y sobre Estados Unidos, Universidad de La Habana.
El terrorismo y el acuerdo anti-secuestros en las relaciones de Cuba con los Estados Unidos, Peter Kornbluh, Investigador. National Security Archive, Washington, DC
La política de la Unión Europea en el triángulo Cuba-Estados Unidos-España, Susanne Gratius, Investigadora. Fundación para las Relaciones Internacionales y el Diálogo Exterior (FRIDE), Madrid.
La Unión Europea y su papel en las relaciones Estados Unidos-Cuba, Eduardo Perera Gómez, Investigador. Centro de Estudios Europeo. Universidad de la Habana
Estados Unidos-Cuba: potenciales implicaciones económicas de la normalización, Archibald R. M. Ritter. Profesor. Universidad de Carleton, Ottawa.
Las relaciones económicas Estados Unidos-Cuba. La normalización pendiente. Jorge Mario Sánchez Egozcue, Investigador y profesor. Centro de Estudios Hemisfericos y sobre Estados Unidos, Universidad de La Habana.
Cuba, su emigración y las relaciones con los Estados Unidos, Lorena G. Barberia, Investigadora. Universidad de Harvard.
Los Estados Unidos-Cuba: emigración y relaciones bilaterales, Antonio Aja Díaz, Historiador y sociólogo. Centro de Estudios Demográficos, Universidad de La Habana.
Corrientes académicas y culturales Cuba-Estados Unidos: temas y actores, Sheryl Lutjens, Investigadora. Universidad del Estado de California, en San Marcos.
La diplomacia académica: los intercambios culturales entre Cuba y los Estados Unidos, Milagros Martínez Reinosa, Profesora. Universidad de La Habana.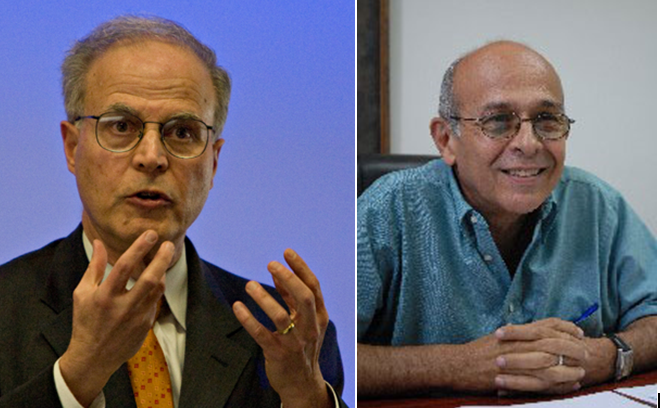 Jorge Dominguez and Rafael Hernandez