A major technological breakthrough in the production of "NPI", a substitute for refined nickel mined and concentrated in Cuba – as well as Canada. Russia and Australia – is already having a major impact on the nickel market and causing reductions in the price of nickel. This will probably reduce Cuba's foreign exchange earnings from nickel exports in future, and will likely halt any expansions of nickel mining for years or even decades to come.
A June 11 2010 report by Andy Hoffman in the Toronto Globe and Mail describes a new product, "nickel pig iron" or "NPI",  that permits a low cost alternative to nickel with obvious implications for the Cuban, Canadian and international nickel industry. NPI is a low-cost and low-tech innovation in the production of stainless steel, developed since 2006 on China. It now accounts for about 10% of world's $21-billion-a-year nickel market and is increasing rapidly in China, as indicated in the chart below. It also has a long way to go before it captures a large share of the Chinese nickel market.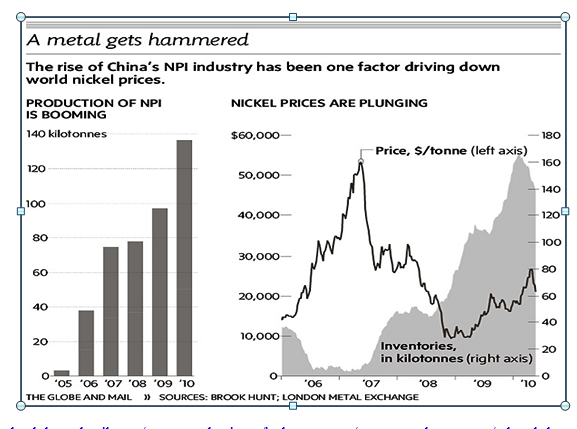 The emergence of NPI has reduced the demand for smelted and refined nickel from traditional sources and will likely lead to further reductions in future. The peak prices of nickel in 2006-2007 that resulted from the tightening market generated by sustained Chinese economic growth over the last 30 years and the general rapid expansion of the world economy from 2000 to 2007 are likely a thing of the past. The cost of NPI will put a permanent ceiling on nickel prices and perhaps reduce demand and mine extraction for traditional nickel in future.
The new technology is based on the direct smelting via cheap electricity of Indonesian or Philippine ore that contains very low levels of nickel – around 2% – but also around 50% iron ore together with coking coal and a mix of gravel and sand . This produces the NPI that is suitable for stainless steel products.
Hoffman estimates that future prices for nickel will remain below about $8.50 per lb. after peaking at about $24.00 a pound in 2007. This means that Cuba's foreign exchange earnings will never again reach the approximate $2.33 billion of 2007. More likely they would remain around one third this level and then perhaps diminish if new mine development were to be halted because of sustained low prices and shrinking markets.
But there are some questions about the long term attractiveness of NPI.
Does it produce a high grade stainless steel of consistent quality?
To what extent is the electricity used for the smelting process subsidized?
To what extent does the relative cost competitiveness depend on China's grossly and obviously undervalued exchange rate?
Will environmental concerns and potential pollution abatement costs of mining coal for coking purposes raise costs and reduce the competitiveness of China's NPI production?